September 21, 2023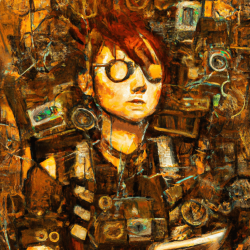 Two thirds of IT workers and nearly half of office workers think that generative AI may come for their jobs within five years, according to a new report from Ivanti. The poll of nearly 8,000 respondents worldwide also suggests that 57 percent of people report 'serious friction' with workplace technology at least weekly and 61 percent say negative experiences with work tech affects their morale.
According to the firm's 2023 Report: New Imperatives for Digital Employee Experience [registration], while many IT workers see the productivity benefits of AI, 56 percent believe it benefits employers more than employees. Additionally, 63 percent are concerned generative AI tools might take their job in the next five years compared to 44 percent of office workers.
The survey also claims that people prefer to talk to a human when they have a problem with technology. This is true even when they know the bot is just as effective at dealing with the issue, with 58 percent still preferring human interaction.
The report suggests that inadequate 'digital employee experience' practices are much more than a tech problem for knowledge workers:
78 percent say they could be more productive with different tools.
57 percent report serious friction at least weekly while using workplace technology.
17 percent have either quit due to poor tech or would consider it — and the figure is nearly 2x as high for Gen Z.
61 percent say negative technology experiences impact morale.
"Organisations globally are grappling with how to optimize Digital Employee Experience (DEX) for the entire workforce," said Jeff Abbott, Ivanti CEO. "Best-in-class organisations view DEX as a powerful tool to improve accessibility, employee retention and the security of their organisation. However, with the rapid progress of AI and automation, the real DEX opportunity is for organisations to enhance employee productivity, speed, and value creation with the best possible IT solution platform."
IT professionals who are tasked with implementing DEX in the organization don't always reap the benefits of it. While the vast majority of IT professionals (84 percent) want to continue to work remotely at least some of the time, they're also significantly more likely to experience a wide range of technology problems at work compared to other office workers. Among the IT workers we surveyed:
85 percent spend at least part of their week at home, yet over a quarter (27 percent) say their tech tools are not as effective when working remotely.
39 percent report too many logins, 47 percent report too many digital notifications and 42 percent report too many tools/platforms required as a tech problem they experience at work.
One in five say they don't have full visibility into which workplace applications employees use.