June 17, 2014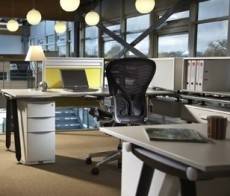 By common consent, the office is a little over 100 years old, with most commentators agreeing that the first true office as we understand it was the Larkin Building, designed by Frank Lloyd Wright in 1904. Yet ninety years after this building ushered in the 20th Century workplace, there was another seismic shift in office furniture design that heralded the office for the 21st Century. In 1994, there was a great deal of excited talk about new ways of working, based on the growing use of mobile computers and phones. For the first time, people were unfettered from the personal workstation and new office furniture systems. Also that year, Herman Miller launched a chair that was to redefine not only what we understood about office seating and workplace ergonomics but reshaped the wider office furniture market in its own image. For the first time it became apparent that when looking after the wellbeing of individuals and making a universally understood office design statement in this new world of work, the chair was the thing, not the desk.
Twenty years on, the Aeron has become more than an office chair. It carries with it not only the original design cachet bestowed on it by its designers Bill Stumpf and Don Chadwick, but also a two decade patina of meaning. Film and television producers use it as a shorthand just as frequently as office designers precisely because it has crossed over from the parochial world of workplace design and management into mainstream acceptance in the same way as the iconic furniture of Charles and Ray Eames, Marcel Breuer and Arne Jacobsen.
So familiar is it now that it might seem hard to envision what people thought when they first saw it. Its design, now so familiar was met with near stunned disbelief when it was showcased in events around the world in 1994. The author Malcolm Gladwell uses the example of the Aeron in his famous book Blink to describe how conventional taste can be challenged then won over by exceptional design. The initial reaction from people when Herman Miller first showed it to people was to reject it, so out of step was it with their tastes and expectations. Many assumed it to be some sort of prototype and all the elements of its design that they couldn't reconcile with their preconceptions of a chair would be changed before the product was launched.
After 20 years, we now know better.
____________________________________

Justin Miller is the sales director of office furniture and ergonomics specialist Wellworking.