October 27, 2023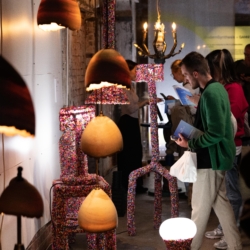 The new digital issue of Works magazine is available for you to read, download, print and share right here. In this issue: we report on the inaugural Works Place event at Material Matters in London in September; visit three new offices in London that show how outstanding offices are retaining their role in making the capital a great place to work; we speak to Andreu World about their partnership with design legend Philippe Starck; and catch up for a drink with our friends Rawside who are maintaining Clerkenwell's reputation as a new design powerhouse.
A welcome from Mick Jordan
We are no spring chickens anymore. In fact, most mornings we feel more like old buzzards. With high blood pressure. So we thought it was time that we pulled our aging bones out of our comfy armchairs (we even make a noise when we do this now) and addressed how we could capture that younger market.
We turned to the telly and to social media. What are those Millennials and post-Millennials tapping into? What do they want in terms of content?
We watched some newsreaders, soap actors, influencers and 'celebrities' we'd never heard of trying to dance. We watched some ridiculously attractive people (actually they seemed more attracted by themselves than anyone else) trying to ne the most attractive person on an island. We even watched some YouTubers and rappers trying to box. They weren't very good and we couldn't understand why this young audience was so excited about them.
We felt we were getting nowhere – so we decided to go to the pub. It was full of younger people. There was a live band playing. We knew each and every song. We had bought most of them on vinyl when vinyl wasn't cool, it was the only way to buy. So we attempted to interact with the younger clientele. They enthused about a band we had seen before they split up the first time (and they've since reformed, split up again and reformed again, with virtually none of the original line-up). "They're a real Trigger's broom of a band," we joked. Blank faces! We're just old, we realised, and it's just time to accept it. We decided to go home – well, we were quite tired and it was nearly 8.30!
INSIDE Works Magazine 8
NOTICEBOARD
We start with the usual
selection of stand-out
industry launches, initiatives
and happenings.
FREDDIE'S FAB FIVE
Our products guy, Freddie
Steele, offers up his
selection of the best new
products of the season.
PROJECT: FLEET PLACE HOUSE
We're back in our 2nd home
of Clerkenwell to take a
look at the borough's latest
brilliant office development.
MATERIAL MATTERS
We bring you all the sights
and sounds from the
recent Material Matters
event at the Southbank's
Bargehouse.
PROJECT: JIMMY CHOO
Staying in the capital,
we cast an eye over the
spectacular new working
home of the iconic fashion
brand, designed by our
friends from Area.
ANDREU WORLD X STARCK
We love it when two great
things come together. We
discover more about the
collaboration between
design great Philippe Starck
and leading furniture brand
Andreu World.
PROJECT: MOO
In something of a 'London
Special' we head up to
Camden to learn more about
the new LABS-based HQ
of leading brand-building
business, MOO, expertly
designed by Trifle.
THE SUNDOWNER
We share an afterwork drink with two
of Clerkenwell's newer
'residents' – Rawside's
Richard Gann and Liz Close.
OUT OF OFFICE
We take a close look at the
industry showroom scene,
and are left wondering why
streets are so quiet and
faces are so glum