February 15, 2023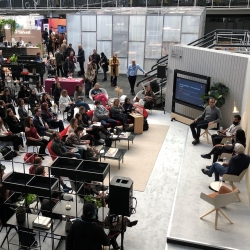 A few of you may already know this story. It was some 15 months ago and three old friends met up for the first time in quite a while (well, we had been through lockdowns etc). Having caught up with each other's news, the subject turned to industry journals, what the three friends felt the market was missing and the possibility of collaborating in the not too distant future. That conversation occurred at the inaugural Workspace Design Show – which the three amigos were all hugely impressed by. The result of that conversation (and a few more chats and meets, of course) is Works. So, here we are, all those months later, pulling together a preview of the 2023 edition of WDS, which – we're delighted to say – we're very much a part of. And we don't just partner with any one, you know.
Returning to Islington's Business Design Centre on 27-28 February, the Workspace Design Show is back, with the 2023 theme of Destination Workplace: Places Where People Want to Be.
In this ever-changing world of workplace strategy and design, there will be four different talks programmes: The Workspace Design Talks, Sustainability Works, The Occupiers Forum – The View from HQ, and The Finishes & Interiors Sector Conference.
The Workspace Design Talks will feature the latest trends, challenges and success stories in workplace design and strategy, from the UK's leading architects, designers, developers and occupiers. Confirmed speakers include the likes of Collin Burry, Design Principal, Gensler; Shannon Pope-Ellis, Managing Director, MCM; Katrina Kostic Samen, Director and Head of Workplace Strategy & Design, KKS Savills; Grant Kanik, Partner, Foster + Partners; and Kate Smith, Executive Director, CBRE.
The future of work and sustainability
In a series of talks, interviews and discussions, the Sustainability Works programme will bring together a selection of key figures behind the workplace market's leading sustainable initiatives, projects and product developments. Curated by none other than yours truly, Mick Jordan, and the Works , IN and Insight editorial teams, the discussions will be is a response to sustainability's place at the top of the workplace agenda. The latest thought leadership on sustainable design will come from, among others Natalie Smith, Principal, Perkins & Will; Gurvinder Khurana, Director, M Moser Associates; Lucy Townsend, Head of Sustainability, BDP; and Beatriz Gonzalez, Director, Scott Brownrigg.
Workspace Design Show will also be hosting the Occupiers Forum – The view from HQ', which will provide the audience with the chance to listen to occupiers' perspectives on the future of workplaces. Among the speakers confirmed are Claire Henderson, Inclusive Design Lead, Workplace Design, HMRC; Michelle Marwood, EMEA Real Estate Director, Norton Rose Fulbright LLP; Ash Kaur, Workplace Design Lead for Europe, Middle East and Africa, Oracle; and Suzan Dixon, Head of Workplace Europe & Americas, Standard Chartered.
The first day of The Finishes and Interiors Sector Conference (FIS) will focus on the compliance and fit-out process, while the second day will concentrate on the subject of creating destination workspaces. Leading speakers include Jamesina Sainsbury, Director of Consultancy, MCM; Andrew Parkin, Partner/Global Head of Acoustics, Cundall; and Vidhi Sharma, Creative Director, Modus Workspace; The Furniture Practice will once again be curating the Talks Lounges, as well as collaborating with BDP on the newly-added talks space. The spaces are set to feature iconic brands including Vitra, Fredericia, Arper, Andreu World, and Moroso, amongst others.
A unique experience
The Workspace Design Show has also partnered with some leading designers to provide visitors with experiential features, hoping to engage and inspire them with insights into workplaces of the future. BDP will be responsible for 'Change by Design' – an exciting lounge space concept for the 2023 show. This will provide a discussion piece surrounding the current climate crisis, and will question the impact of workplace design on the natural environment.
It represents a problem-solving approach that will demonstrate how the use of recycled, reused and biomaterials in design projects can help to shape a low-carbon future.
The main framework that separates the lounge will be provided by KI in the form of its modular shelving system, Colonnade. The highly customisable unit enables the lounge to be divided up into different environments, giving visitors the chance to relax, socialise or have a quick meeting. Other KI items being used include the Colonnade Cube stool, which has been specifically designed to fit into the Colonnade structure, and Grafton stools, which will pair with a Zig table.
Vantage Spaces will be providing a moss wall and planting to re-emphasise the importance of biophilic practices in the workspace, while Kvadrat fabric will be draped around the Colonnade in colours that complement the greenery, as well as the unit itself. Milliken will then provide the flooring, and Atrium will provide the lighting.
In keeping with the key theme of sustainable and adaptable workspace and commercial products, all of the suppliers involved – including KI – have measures in place to lower their impact on their environment.
New to this year is the Bio Materials exhibition, designed by BIOHM, with biological systems at the heart of its inspiration. This will combine ideologies of the circular economy and human-centred design with future tech, representing an exciting opportunity for visitors to discover advanced materials, which will be crucial to the future of design.
Other exhibitors include Logovisual who will be presenting the ThinkingWall Divider range, a collection of sleek, stable mobile dividing walls featuring web connected AV technology, drywipe surface and storage.
Workspace Design Show has every surface covered from flooring to fabrics, which are increasingly used to define different spaces within an office floorplate. Flooring specialists Tarkett and Strata Tiles will both be exhibiting, demonstrating their latest surface solutions. Exploring the importance of colour and texture through fabrics is Kvadrat, a well-renowned textiles company, which produces high-performance, design textiles, rugs, acoustic and window covering solutions for both commercial and residential uses. BIOHM will present the bio materials exhibition, with biological systems at the heart of its inspiration.
A sense of place
Gensler will be designing the show's entrance, with the theme 'Destination Workplace Rebirth'. Becky Spenceley, Design Director at Gensler, who is leading the project, says: "It feels like there has never been a more exciting and yet equally unknown time in the future of workplace design. We are inspired by this synergy between a new era of workplace and a new outlook on how we can care for our planet, and how we as designers can affect that through pioneering and sustainable design. It's about fresh perspectives to enable new ways of working and to create unique and tailored destinations for people, hence the overarching theme of Rebirth."
International furniture specialist, The Furniture Practice will curate this year's Design Talks Lounge in collaboration with studio Acrylicize. The main stage space will bring together key pieces from leading furniture manufacturers, including Moroso, Andreu World, Arper, Fredericia and Vitra, alongside an immersive installation celebrating material innovation within furniture and interiors.
Collaborators include FUTURE Designs, sponsors of the bar area. This UK-based firm specialises in quality bespoke lighting solutions and has recently gained the Carbon Careful sustainable accreditation. Lighting exhibitors include Erco which has a whole portfolio based entirely on LED technology and Delta Light, recognised throughout the world for its subtle blend of ambiance, elegance, functionality, and design, both in interior and exterior lighting. The Indoor and Outdoor intelligent lighting specialist, iGuzzini will also be exhibiting their latest products.
The WDS Party returns on the evening of 27th February, taking place on the show floor, featuring a stunning bar designed by M Moser Associates. The bar concept is inspired by M Moser's mission and passion to reduce waste and repurpose discarded materials, which are too often discarded in place of new materials. The goal is to give these items a new lease of life and spark curiosity and conversation. Attendees can explore and experience the space, which aims to take you from a state of flux to stasis. Visitors will be able to enjoy their drinks with peers, whilst exploring the latest product launches and innovations from leading manufacturers hailing from over 20 countries, who are helping to transform the employee experience across the UK's workplaces.
On top of all that, there will also be the Mood Board Contest by Kvadrat for designers to immerse themselves in, while, leaving the start until the end, the dramatic show entrance, designed by Gensler, is titled Destination Workplace Rebirth.
We look forward to seeing you there.