May 4, 2021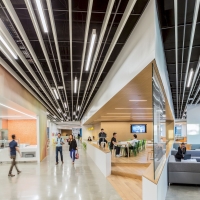 Workspace Design Show, the event bringing together the commercial interiors community with its inaugural event taking place over the 4-5 November this year at London's Business Design Centre, is building momentum with news of new speakers and partners that have joined the party, as well as details of its discussion on 'New Product Ideas for Tomorrow's Workspaces.' The show's organisers say they are especially thrilled to announce that its inaugural event will feature key speakers from the world of commercial interiors, from established brands including Gensler, Perkins and Will, BDG, tp bennett, Unispace, Arup, PwC, Landor and Fitch, Aviva, Areen Design, KKS Savills, MF Design Studio, Susan Lake and The Office Group. Workplace Insight and IN Magazine are also partnering with the event.
Many brands have also now announced partnerships with the show, including Workspace Design Talks Partner The Furniture Practice, who are a furniture consultancy with offices in London, Manchester, and New York. The company has delivered world-class projects of all sizes, budgets, and styles in collaboration with businesses and interiors professionals for over 24 years, making for a very exciting and established programme partner.
The event has been well received in the commercial interiors industry, with Richard Benson, Creative Managing Director at Allen International (part of Accenture Interactive) saying: "I look forward to seeing the latest innovations and thought leadership around the future of workspace experience. To learn how the brightest design talent, manufactures and strategists are shaping and equipping the workspace of tomorrow for success today."
Lauren Lever, Founder of Lauren Lever Design also said: "This is a challenging but exciting time to see how we, as designers can shape the new way of working and the future of office workspaces. I cannot wait to see what new innovations and creative solutions come to light."
New partners
The Workspace Design Show is also delighted to have some important names in the industry making up its list of associated partners including, BIID, SBID and Flexi Space Association.
After the success of its first 'Spotlight Series' session on Sustainability Standards, the event organiser is also hosting another creative discussion, this time on 'New Product Ideas for Tomorrow's Workspaces,' taking place ?on the 7th May at 11am.
With the introduction of its 'Spotlight Series' sessions, Workspace Design Show hopes to give the commercial interiors world some food for thought in the build up to the main event in November.
The talk will discuss: How do designers enhance the future workspace experience through products? Should we focus on re-engineering existing products or designing brand new products? How is the dialogue between designers, clients and manufacturers evolving to create tomorrow's products?
The session will discuss how recent disruption is leading to new product innovations in workspaces across the UK. All the above will be discussed at the event, which will be chaired by Daniel Gava, Brand Strategy Advisor for the Architecture and Design Industry and featuring expert insights from industry specialists who will also speak at the inaugural event in November.
Hear from:
• Natasha Bonugli, Global Principal of Design at Unispace
• Stephen Philips, Associate Product Designer at Arup
• Yorgo Lykouria, Creative Director & Founder of Rainlight
• Collin Burry, Principal at Gensler
RSVP: To register your attendance, please visit: https://workspaceshow.co.uk/spotlight-may