March 3, 2014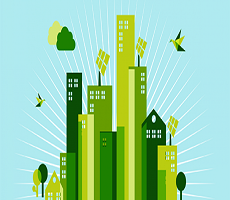 In an attempt to broaden the business case for sustainable building, the World Green Building Council has launched a new initiative to define the productivity and wellbeing benefits associated with low carbon and sustainable property.  The initiative, launched ahead of this week's Ecobuild conference in London, will be steered by a group of experts who will produce a final report later in the year. The premise of the study is to show that, as well as cutting costs and improving environmental performance, green buildings have a beneficial effect on the health, wellness and productivity of occupants. According to the announcement, around 85 per cent of an average organisation's costs are associated with salaries and other costs of employment so a modest improvement in productivity can have a huge impact.
The announcement of the initiative cites the examples of improved ventilation which can increase productivity by up to 11 per cent, while improved lighting design can increase productivity by up to 23 per cent. (Although we might also point out that can only be the case when all other factors are equal and that it is impossible to attribute increases to any one thing).
Nevertheless, the characteristics of sustainable building that contribute to individual wellbeing and productivity will be laid out in a toolkit when the final report is published in the Autumn. The toolkit while ascribe financial value to factors such as daylight, ventilation, and the office environments to help owners and occupiers maximise the benefits of green buildings, reduce sick days, and improve recruitment, turnover and staff retention.
"While there is a growing body of research that firmly supports the connections between sustainable buildings and improved health, productivity and learning outcomes of those who occupy them, this evidence is yet to inform investment decisions in the same way as traditional financial metrics," said Jane Henley, CEO of WorldGBC. "This project aims to identify the metrics that will support investment in greener buildings."
The project is sponsored by Skanska, Lend Lease and Jones Lang LaSalle.