December 23, 2021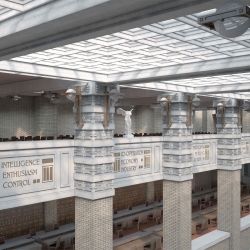 It was only towards the end of the development of IN Magazine that we became aware of something called COVID 19. By the time of the official launch in March of 2020, it had become clear that the world was facing a challenge that would lead to a reassessment of many aspects of our lives. We're not out of the woods yet and there remain more questions than answers about what lies ahead. Yet organisations are looking forwards and I've been privileged in recent weeks to listen in on several conversations from occupiers about both their plans for the future and the necessity of flexibility in applying them, as they tread uncertainly in a new era and learn more about it as they go.
Throughout the past 18 months, we've tried to avoid the many cliches and received wisdoms of this era, and the new issue of IN sticks to this approach. For the first time, it includes a supplement as part of the new INside series. In this issue the supplement, sponsored by Modus, explores different work cultures and the models of office design that may serve them.
Elsewhere in the issue: James Woudhuysen looks at the way offices have always been an essential part of command culture; Rob Harris explores the still relevant ideas of the most important workplace theorist of the past century; we speak to academic and workplace theorist Ben Waber; Jo Knight asks if the time has come for offices and office interiors as a service; Nigel Oseland says it's all happening at the workplace zoo; Billy Linehan explores the cities that are making digital replicas of themselves; Andrew Brown goes above and beyond in the quest for innovation; we consider the nature of hyperobjects. All this and our usual round up of events, news and fresh thinking.
So if you want to find a way out of the situation we're still in, first you have to get IN.
Main image: David Romero's remarkable recreation of the Larking Building