February 25, 2020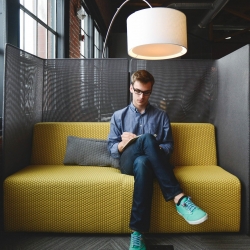 With less than a month to go before the government sets out its economic predictions in its first spring budget, new research points to a 30 percent increase in people planning to start a business or register as self-employed this year. With 1.4 million new limited company or self-employed registrations in 2019, 2020 could see that rise to as many as 1.8 million new registrations, Intuit QuickBooks, which commissioned the research, claims.
The survey of 2,500 people also identified various indicators of confidence among early-stage entrepreneurs:
1 in 10 self-employed people said they plan to take the first big step in their business journey by putting their first employee on the payroll
1 in 5 business owners intend to move from kitchen table to premises for the first time
more than 1 in 3 established business owners plan to employ at least one new person and continue to grow their business
1 in 5 business owners say they are likely to bring in external funding for the first time
Chris Evans, VP and UK Country Manager, Intuit QuickBooks said: "Our research shows there's optimism across the country, particularly for those keen to either start or grow their own business."
Overcoming challenges
Self-employed respondents did, however, have a range of concerns about putting their first employee on the payroll:
being able to afford their salary consistently (28 percent)
the new employee being good enough at the job (21 percent)
Brexit uncertainty (18 percent)
Understanding employment and payroll regulations (14 percent)
Standing out from the crowd of employers (13 percent)
Running a small business involves a learning cliff rather than a learning curve – you'll go over the edge and either learn to fly or plummet
Off the back of the research, QuickBooks hosted a roundtable discussion with owners of small businesses of different sizes, ambitions and outlooks. It asked more about perceived barriers to growing a small business in the UK today.
One of the attendees, a former BBC The Apprentice candidate and serial entrepreneur, Claire Young, noted the importance of tackling challenges head on, saying: "Running a small business involves a learning cliff rather than a learning curve – it's hard and fast and you'll go over the edge and either learn to fly or plummet."
Entrepreneurs want a Mini Me
The research also found most entrepreneurs recruit their first employee in their own image, selecting someone who shares four out of five traits that fulfil their perception of a 'perfect entrepreneur'. Four of the most valued traits in both entrepreneurs and employees according to respondents were being hard-working, being organised, having good attention to detail and being a good all-rounder. Being creative was seen as valuable in entrepreneurs, whereas being diligent was identified as more important in a good employee.
Start-ups should "consider psychometric testing to understand whether potential employees really can do the job, Roni Savage, founder of construction business Jomas Associates, told the roundtable. "This is something I've found invaluable and have even done retrospectively to understand how my teams work and function together."
Image by StartupStockPhotos