April 13, 2020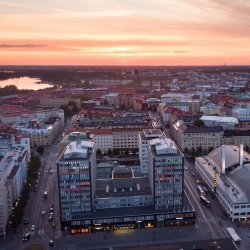 A consortium of Finnish companies backed by government funding have launched a smart buildings platform that they hope will will enable the collection, analysis and automatic application of data in building maintenance and design worldwide.
KONE, Nokia, YIT, Caverion, Halton, Netox and VTT have founded the 'ecosystem' known as KEKO, supported by funding from Business Finland. Its goal is to create the global standard in building data ecosystems and a smart platform for other parties to tap into.
In developed countries, people spend up to 90 percent of their time indoors. Buildings are also the source of over a third of the EU's carbon dioxide emissions. As buildings play such an important role in our society, the data generated by buildings is extremely valuable. The KEKO ecosystem aims to significantly improve the comfort, productivity and sustainability of buildings by integrating the data of all the technical systems in the built environment to a single platform.
The ecosystem's founding members are KONE, a global leader in the elevator and escalator industry, Nokia, which offers a comprehensive portfolio of network equipment, software, services and licensing opportunities across the globe, YIT, a city developer and builder, Caverion, a building technology company, Halton provider of indoor air systems and integrated, human-centric lighting solutions, as well as Netox, an IT and cyber security company. The research partner and coordinator of the project is the Technical Research Centre of Finland, VTT.
Image of Helsinki by Kosti Keistinen