June 23, 2015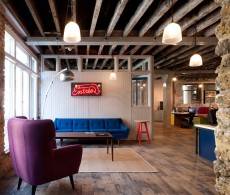 The full list of regional winners of the Royal Institute of British Architects (RIBA) Awards for 2015 has been finalised. The list of 37 winners will now go on to compete for the Stirling Prize in October. This year's list is dominated by London projects, as is often the case, but also by homes whereas last year they were dominated by large scale projects, especially The Shard. We've rounded up a gallery of the major workplace projects in the list for England and Wales with some notes extracted from RIBA's own commentaries (so don't blame us). Each entry is hyperlinked for you to discover more about the project. Unfortunately, the regional winners for Scotland and Northern Ireland are not well served by their respective websites, which is a particular shame given the success Scotland in particular has in terms of the number and apparent quality of its winning projects.
The Foundry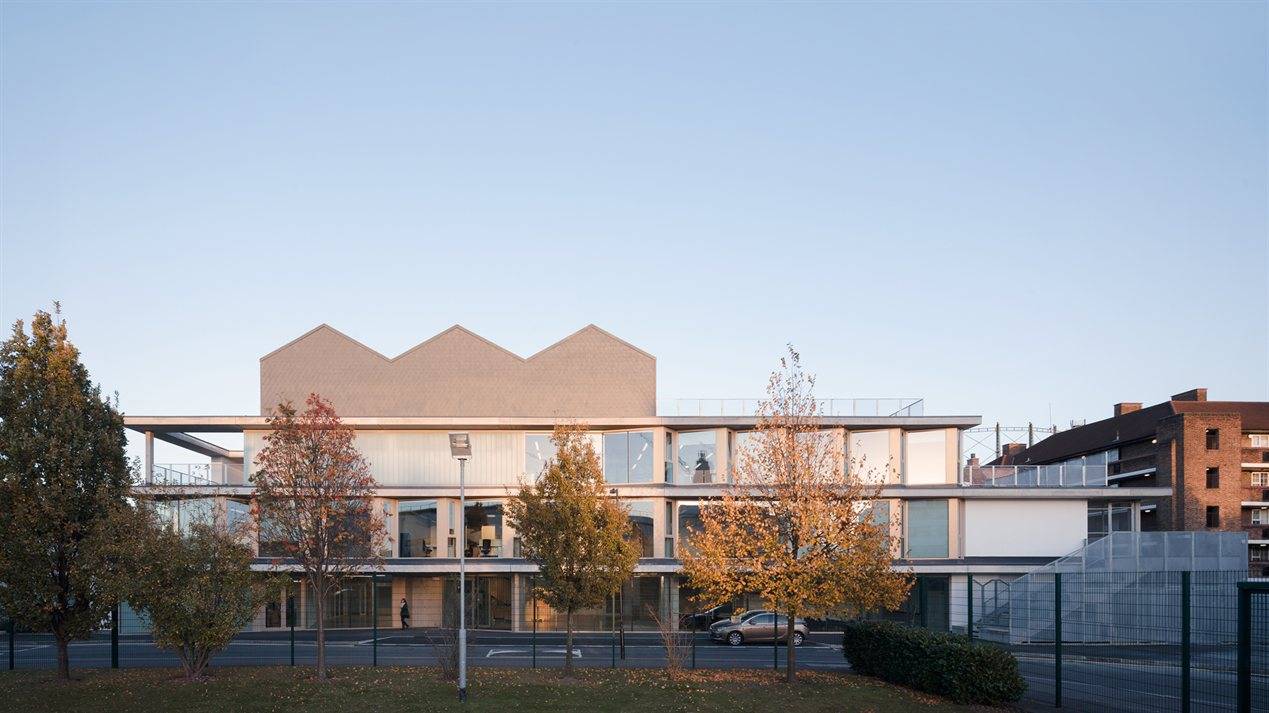 ARCHITECT: ARCHITECTURE 00 LTD
CLIENT: ETHICAL PROPERTY COMPANY / SOCIAL JUSTICE & HUMAN RIGHTS CENTRE
The first impression on paper are that this project represents extraordinary value for money for the client, at 1100/ m2 and a Bream excellent rating. On visiting this scheme it's clear that this has not led to a loss in quality. Savings are carefully sought. Surfaces pared back to raw materials with no extraneous finishes. Niceties such as suspended ceilings are omitted to reveal the messy servicing. Fire strategies and servicing seem to be dealt with holistically, removing expensive constructional solutions.
The brief was initially for a refurbishment of an existing shoe polish factory. The ambition of the architects and their successful existing working relationship with their client have turned this into much more, from a workspace refurb project to a large new build element and an ambition for a Social Justice and Human Rights Centre. The existing factory is simply stripped back and encapsulated by a new concrete framed building with a large central light well.
Donmar Dryden Street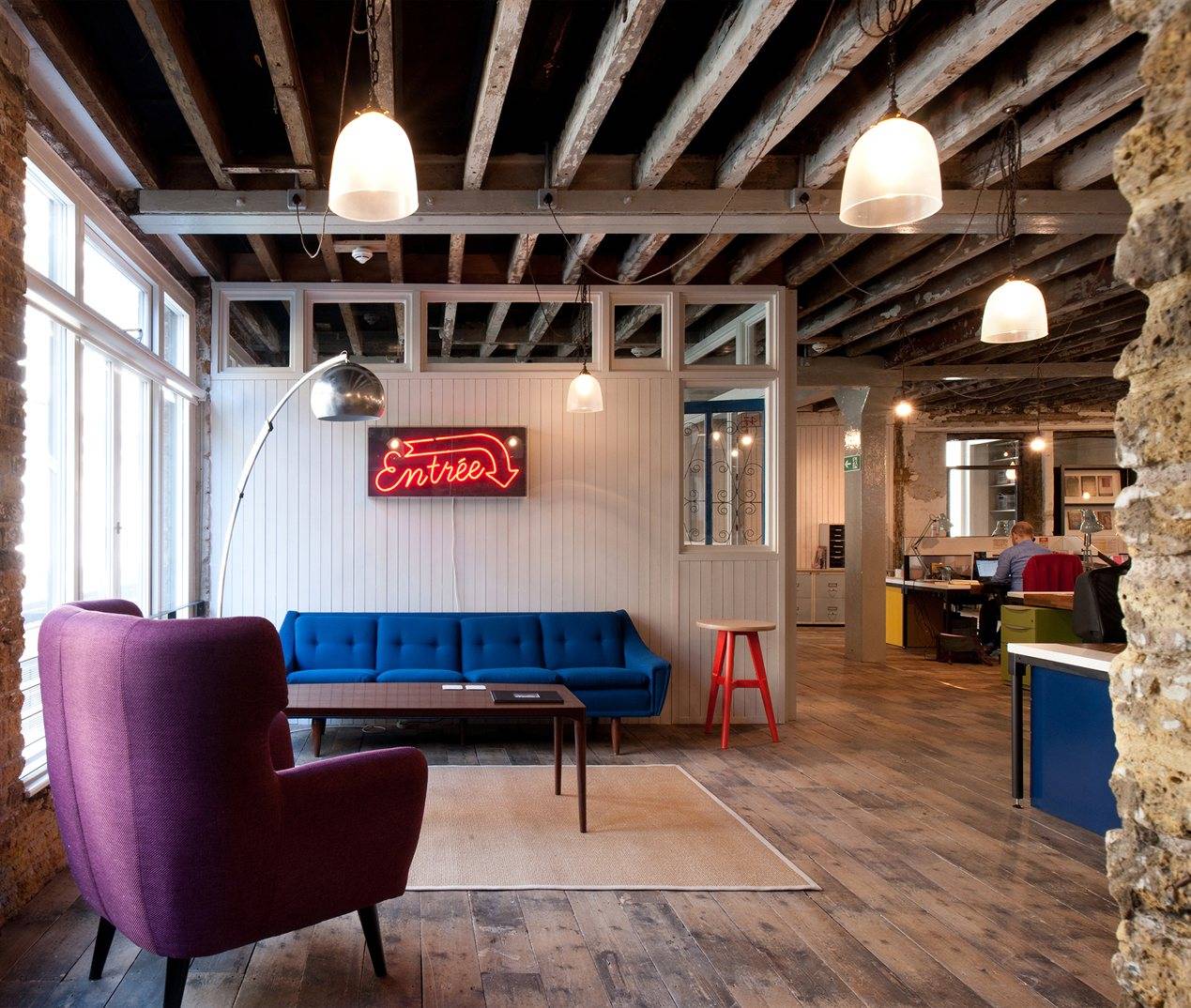 ARCHITECT: HAWORTH TOMPKINS
CLIENT: DONMAR WAREHOUSE
Haworth Tompkins has an established reputation in delivering exceptional theatre projects for a range of clients and types of buildings – both new build and renovations – across the UK. This project demonstrates their mastery of this medium, demonstrating great sensitivity to an existing 19th century warehouse while producing creative working spaces in total sympathy with their theatre client's needs.
A five storey warehouse in Dryden Street has become a new administrative home for the Donmar, including a range of education spaces, library, offices and rehearsal and casting studios, music practice rooms, interspersed with inviting living rooms and kitchens. Each floor has been stripped of finishes to reveal the raw brick and timber and occasional rusting lintel of the original warehouse.
New Burlington Street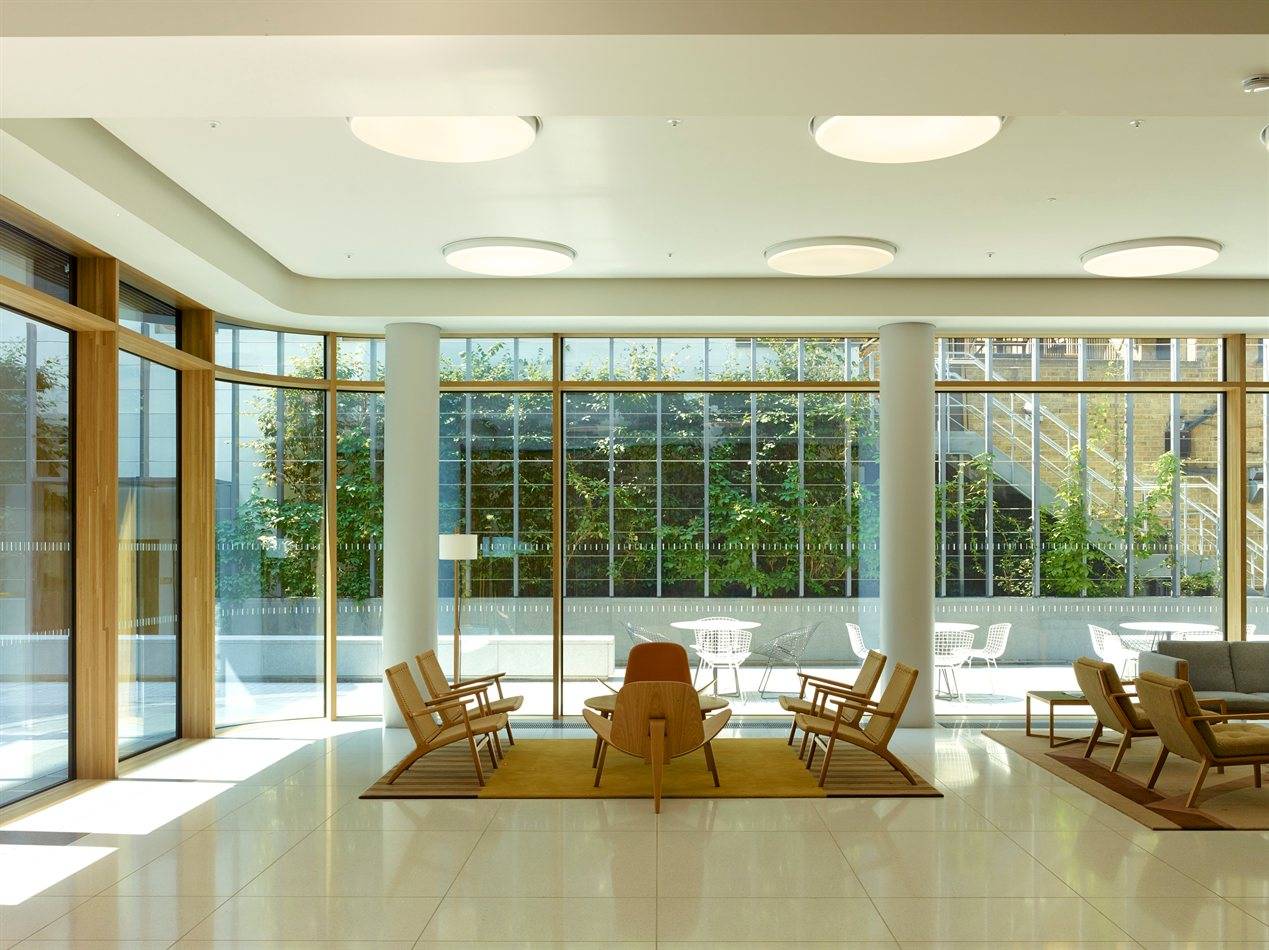 ARCHITECT: ALLFORD HALL MONAGHAN MORRIS
CLIENT: THE CROWN ESTATE AND EXEMPLAR PROPERTIES
This project is a creative re-configuration of a series of former buildings on Regent Street and New Burlington Street to form one new 13,500sqm office building for the Crown Estate. The project involved the retention of at least four facades, with the added challenge of marrying new consistent floor levels with the variable  levels of fenestration found on the listed facades.
Presenting a largely historic public face to Regent Street and New Burlington Street, a new 3-bay frontage acts as contemporary entrance to the development. With commercial ground floor tenants responsible for their own shopfronts, the building's new nature is most fully expressed on its side and rear facades  as a curved volume with a triple glazed skin. The curved façade section allows light and an increased sense of space in a re-invigorated Burlington Mews, now designated a 'secret garden'. This space now acts as planted backdrop to the ground floor entrance spaces.
5 Pancras Square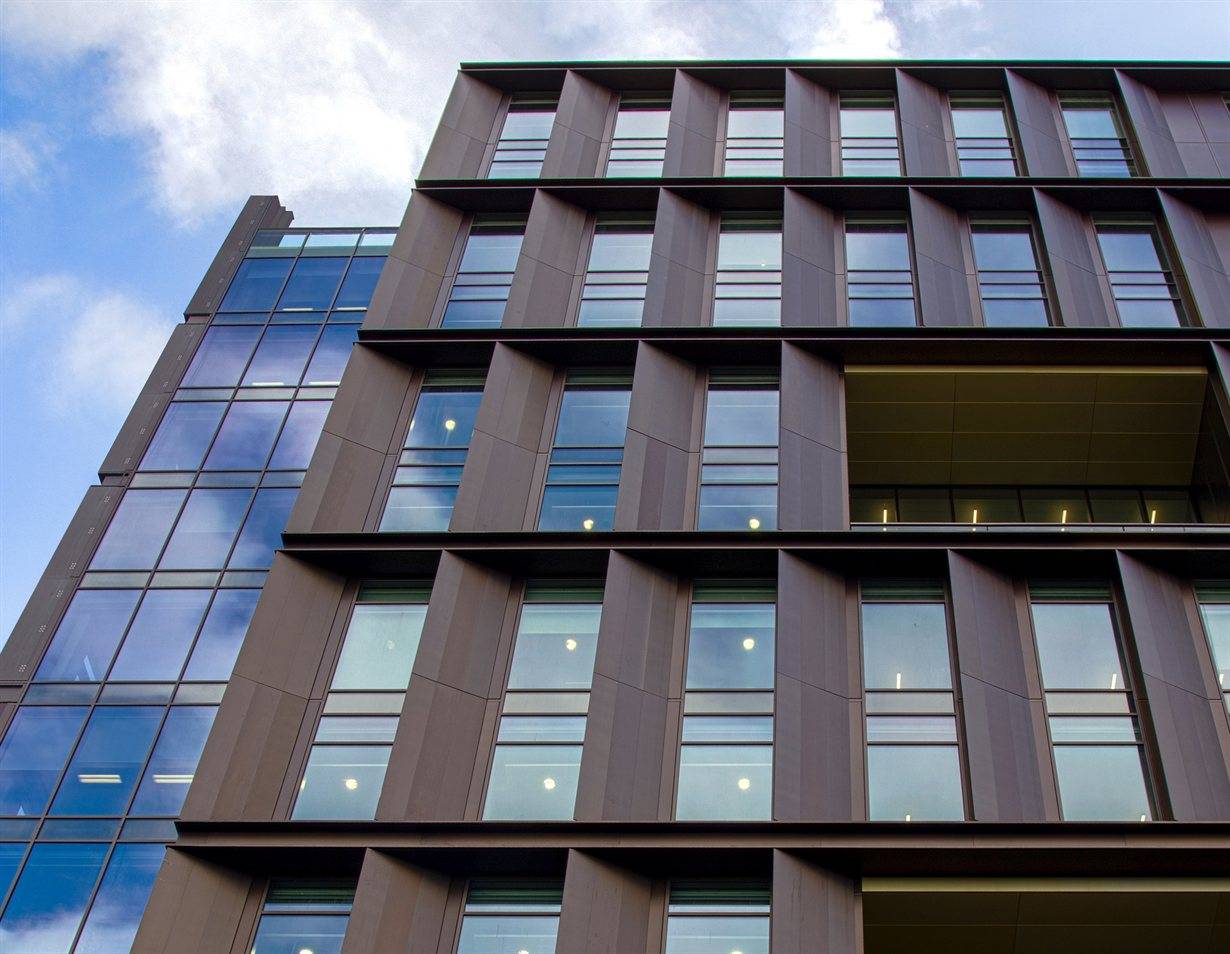 ARCHITECT: BENNETTS ASSOCIATES
CLIENT: THE LONDON BOROUGH OF CAMDEN
The fourteen-storey city block is the new head office for Camden Council and demonstrates their commitment to the giant King's Cross development. On the lower levels it provides four floors of public space, including a gym, swimming pools, library, café and public facilities. On the upper floors it provides hot desk offices for 2300 office workers in open plan space arranged around a light and airy atrium.
The public and administrative functions are separated by a giant transfer structure, which is expressed in the elevations with a robust arcaded plinth of concrete columns and glazing. The structure creates the clear span space necessary for the swimming pools beneath. The library and café are hung from the fourth floor slab and set back from the facades to create double height areas next to the north and south elevations. On the south side this void is used to cleverly resolve the level difference from east to west creating space for a wide public stair and glazed lifts with the health centre reception below and the Council reception above.
Tabernacle Street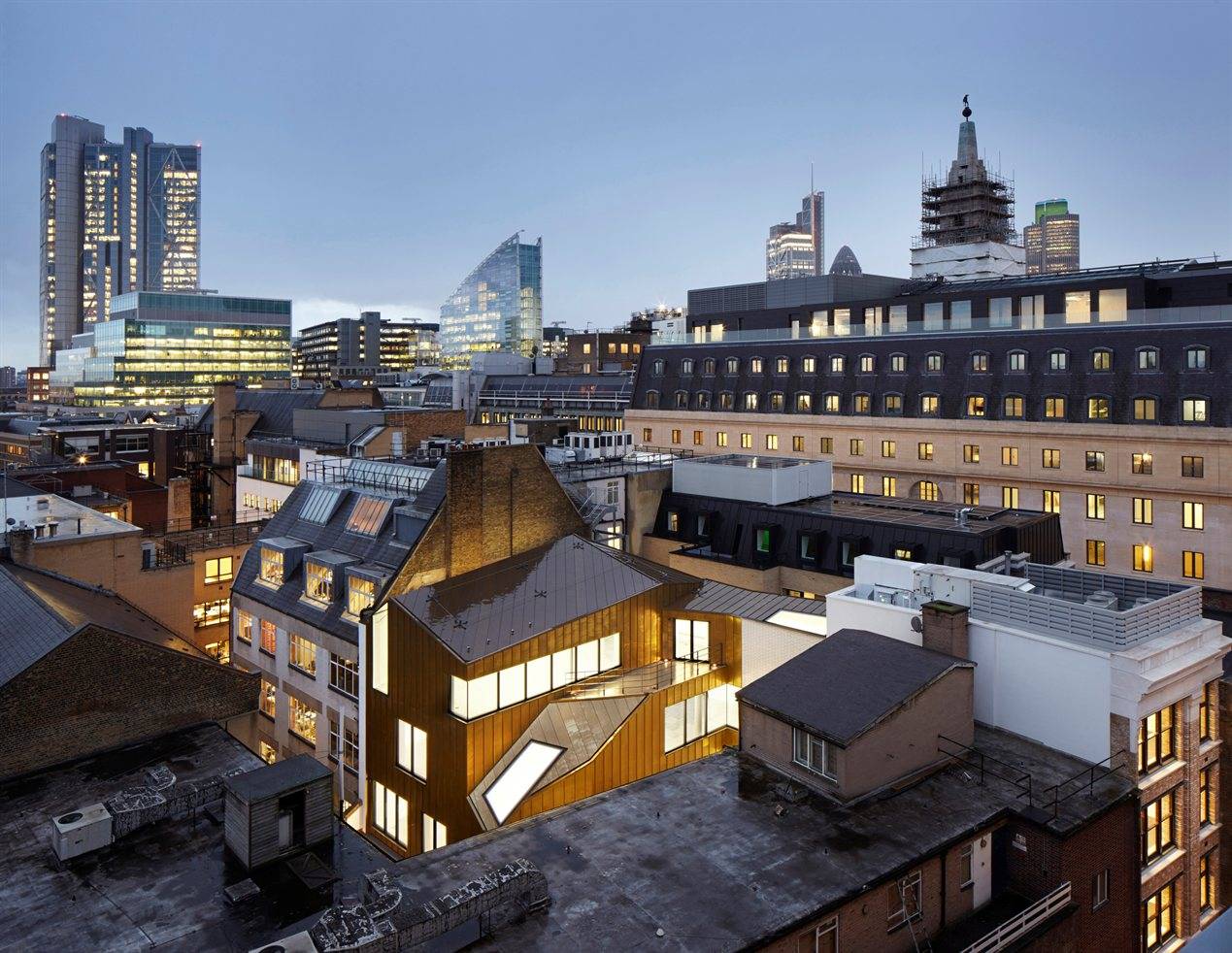 ARCHITECT: PIERCY & COMPANY LONDON
CLIENT: DURLEY INVESTMENT COMPANY
This new office building replaces an existing Victorian structure severely damaged by fire. On the street the original Victorian elevation is re-worked to accommodate the greater ceiling heights required for the new building. In all other respects the new elevation replicates elegantly and simply the original Victorian composition, and details including brickwork, timber windows and cornicing.
At the entrance to the building there is a double-height space which connects through the timber clad office core to open out on to the larger floorplates available at the rear of the site. The jury enjoyed the journey from the front door to the office space beyond and found it both surprising and intriguing.
The principle challenges presented by the design of a new building on this site were providing light to the rear floorplate which is enclosed on all sides, and modulating the building to accommodate rights of light to adjoining windows.
Alconbury Incubator Building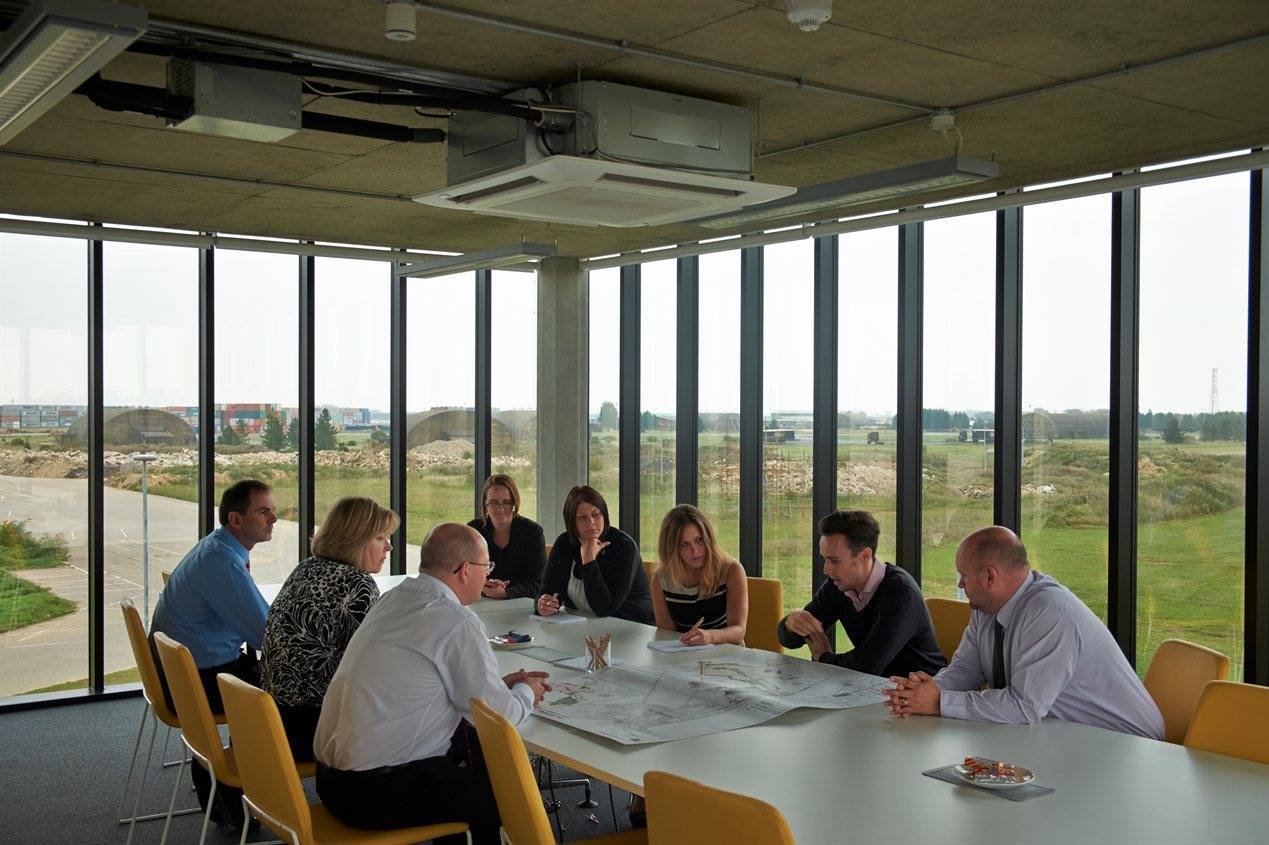 ARCHITECT: ALLFORD HALL MONAGHAN MORRIS
CLIENT: URBAN AND CIVIC
A rather unexpected location, but a unique and brilliant solution. Value for money was strikingly good, clever use of materials and specification, careful consideration to spatial requirements, landscape connections and catalyst to the new master-plan for the area were unique.
The design vision, close working to client requirements, timetable and capacity to engage were excellent to the scheme. D&B contract with close working to architect and contractor provided an exemplar solution. The design response is a delight and the quality of environment invigorating.
Lancaster University Engineering Building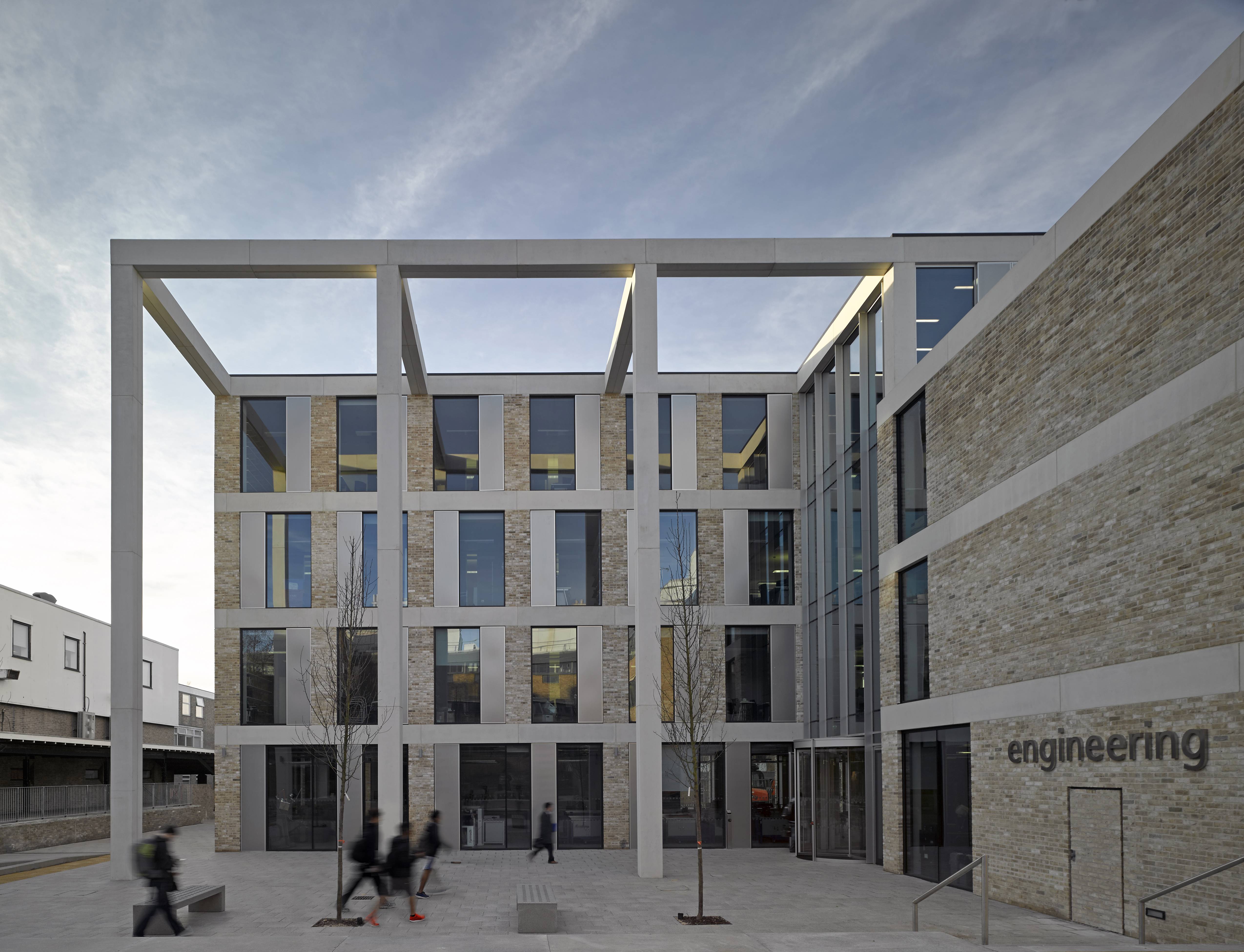 ARCHITECT: JOHN MCASLAN + PARTNERS
CLIENT: LANCASTER UNIVERSITY
John McAslan + Partners have dealt with Lancaster University's tightly planned campus by extending the structure of what is an extremely precise gridded framework into a full height entrance portal signifying formal entry to an impressive atrium lying between two conventional framed slab blocks.
This atrium is key to the building's efficiency – the two blocks contain typical engineering laboratories and workshops interspersed with staff offices and computer suites. This atrium changes what would have been a conventional central corridor of the university science facility in to a vibrant self-aware educational space where students, staff and visitors experience the learning process almost as if they were in a science museum. A generous central circulation space has been achieved by glass walls between the labs and the public access area which makes the building 'live' – an example of how early strategy and a persuasive committed architect can result in a brave decision and a fine building to RIBA Award-winning standard.
WWF UK Headquarters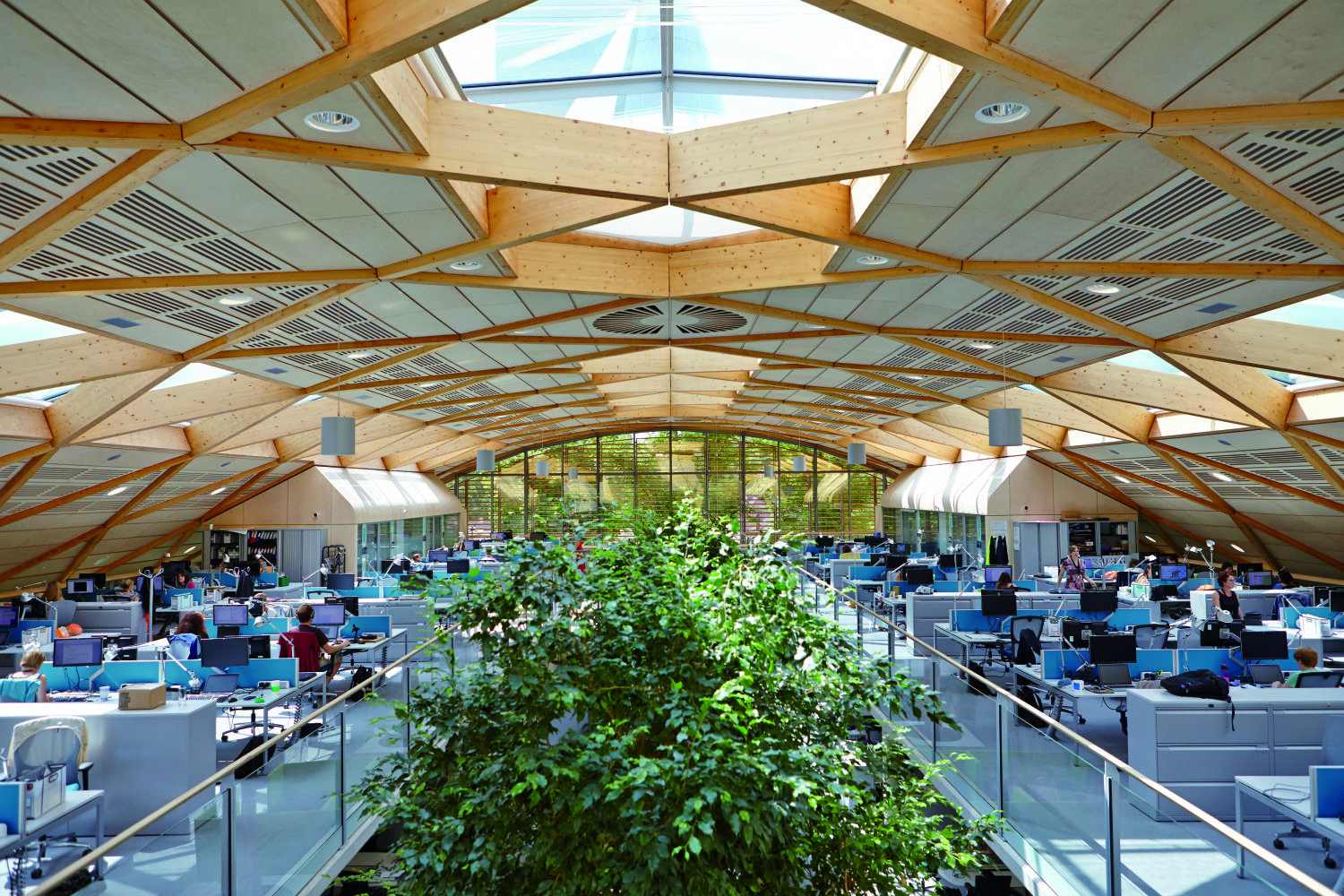 ARCHITECT: HOPKINS ARCHITECTS
CLIENT: WWF-UK
The structural objective of the UK Headquarters of WWF is clear: a large barrel tethered by honest steel sections and connections, giving it the appearance of a lightweight tented hangar structure – Hopkins at their best. Large rotating wind cowls and PV panels suggest a sustainable approach to the design. It floats – incongruously perhaps given its function – above Woking's town car park, which pre-dates it. But no apology is needed: this is the most successful air-rights building ever.
Herefordshire Archive and Record Centre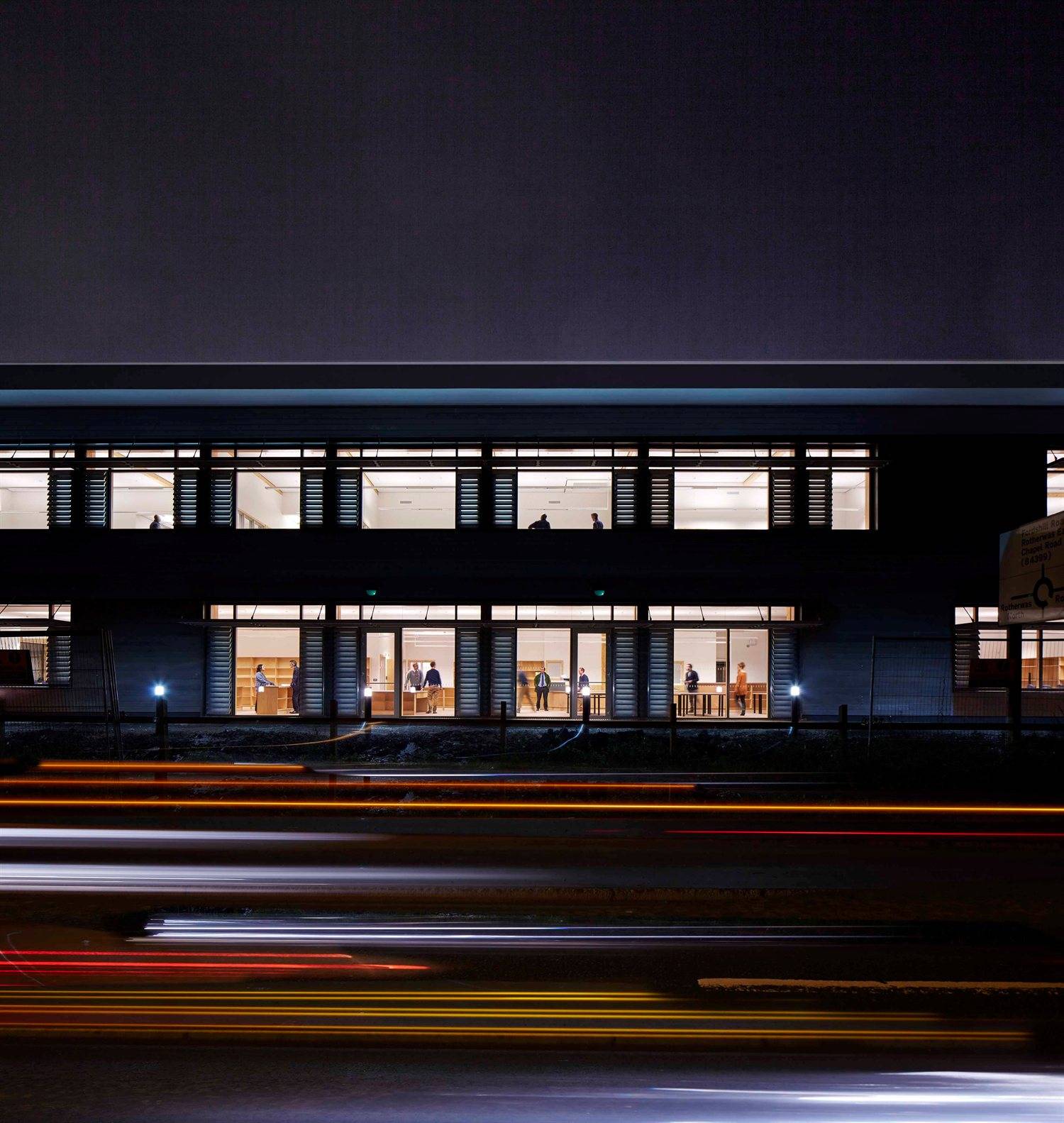 ARCHITECT: ARCHITYPE
CLIENT: HEREFORDSHIRE COUNCIL
The Herefordshire Archive and Records Centre is the first archive building to be designed and built to the new guidance on the storage and exhibition of archival materials PD5454. This guidance includes the need to reconcile the long-term preservation of collections with the need to reduce energy used.  The new building is the first Passivhaus archive building in the UK with claimed operational savings of around 80% compared to similar facilities built to UK Building Regulation standards.
The Archive and Records Office is located on The Straight Mile, an arterial route into Rotherwas. The area has a variety of industrial and commercial buildings of mixed architectural quality. The new building, which falls within the recently designated Hereford Enterprise Zone, performs an important function of 'raising the bar' for architectural design within the zone, not only visually, but in terms of sustainability aspirations.
Sum Studios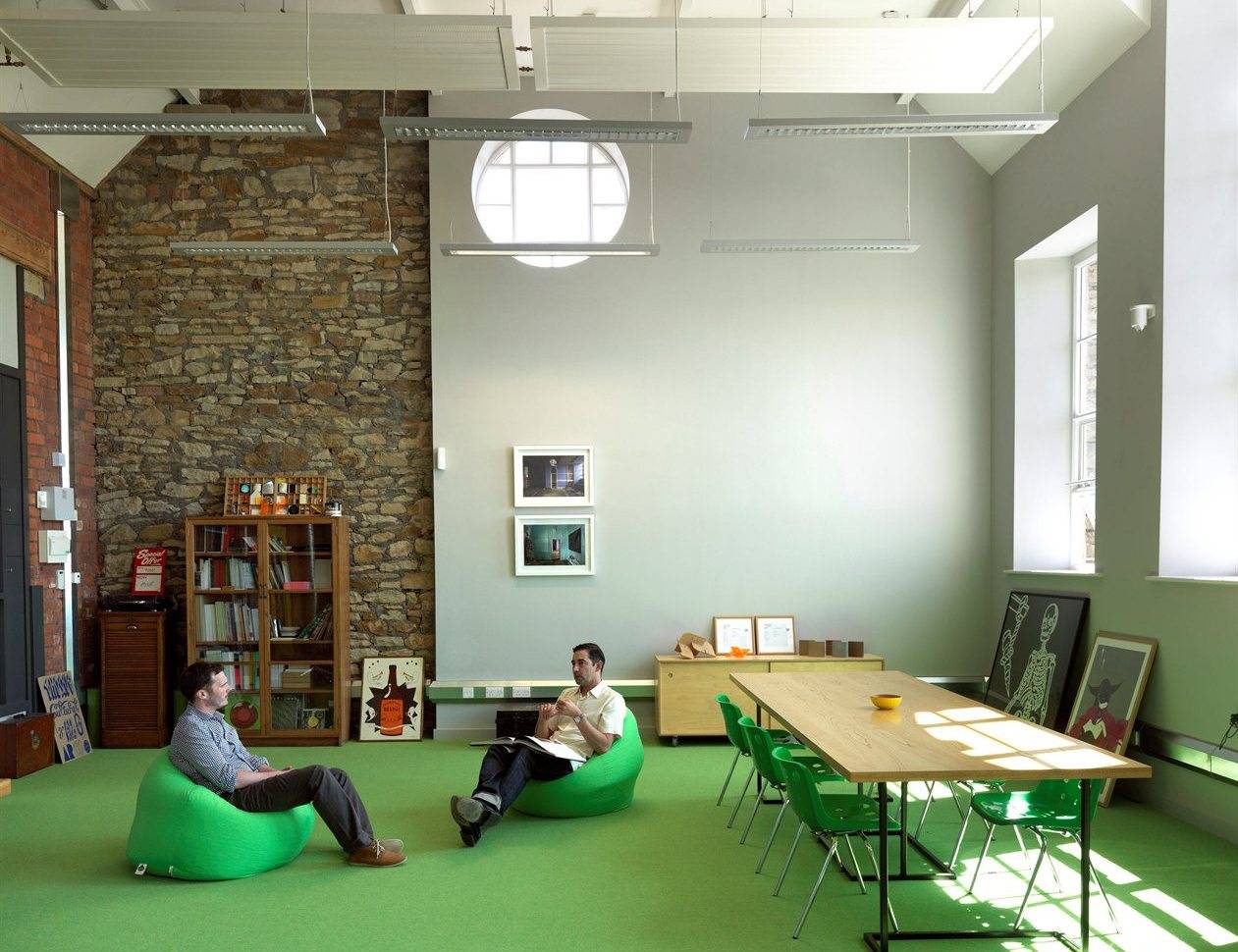 ARCHITECT: STUDIO GEDYE LTD
CLIENT: HEELEY DEVELOPMENT TRUST
The Sum Studios project is testament to commitment, both to a much neglected Listed Building but also the community in which it sits. The conversion from an abandoned shell into a valuable resource has been a combination of dedication and vision. Dark, damp, and decaying spaces have been transformed into bright and warm offices and communal spaces that celebrate every aspect of historic character that remained or could be saved.
The respectful conservation of the external envelope belies an ambitious upgrade of the fabric, which along with other low energy measures, delivers sustainability and low running costs. This is a project where the whole team should be commended for taking an asset that was historically at the heart of a community and returning it to that place for future generations.