April 2, 2014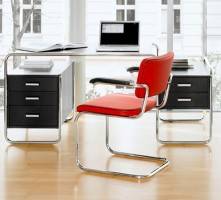 Don't even think about going to Milan for a break at this time of year – you probably won't get a hotel room. Every year the Salone Internationale del Mobile (International Furniture Fair) and Milan Design Week ensure that hotels are full despite room rates soaring for the duration of this world class exhibition. Salone is the show to attend if you want to know what's going on in the world of furniture design. Along with Orgatec, Neocon, CIFF, Clerkenwell Design Week and the Stockholm Furniture Fair, Salone makes up the Grand Tour of furniture and design shows around the world. These shows not only provide an international showcase the very latest in furniture design, each also offers its own unique insight into the way we work and live. And they do so on a massive scale. In the case of Milan, this means extending the show beyond the halls of the central Rho fairgrounds to use locations around the whole city, when it takes place next week.
As with Clerkenwell Design Week, it is helped in this by having some of the most progressive office design showrooms in the world clustered in the city itself.
One of the defining characteristics of the show is the way it proves how the aesthetic and functional boundaries that used to exist between office, domestic and hotel furniture have all but disappeared. These various worlds have collided as have the once distinct aspects of our lives that they once served. Of course, the biggest crossover for office furniture with domestic furniture is in those more relaxed areas of the workplace often called break out areas and more and more these days encompassing reception or welcome areas as well. In fact it's all but impossible to determine where the dividing line between the two exists (an issue which also manifests itself within the whole Work/Life debate).
This is evident in designs such as Arper's Bardi Bowl Chair, originally designed in 1951 by the Italian-Brazilian architect Lina Bo Bardi. Arper will be showcasing the chair in a special event at its showroom, showcased in a range of finishes based on a series of original sketches by the designer. Arper will be presenting a range of new products at the show including its 'graphic, lightweight and fluid' Zinta modular sofa.
Another illustrious name in Italian furniture design will also be using home advantage. While Poltrona Frau has existed for over a century and established itself as one of the World's foremost furniture design firms, it has never committed to producing a product aimed primarily at the office market. Until now, because for this year's Salone and following its recent takeover by US office giant Haworth  it is launching a new eight piece collection designed by Rodolfo Dordoni. The modular system includes a choice of three types of desks, one drawer set and four cabinets which will be showcased in the firm's showroom alongside a new range of Downtown leather office chairs designed by Jean-Marie Massaud.
Thonet is another famous old name that will be focussing on the office market with its classic S285 desk designed by modernist legend Marcel Breuer. The firm will be launching complementary elements to this classic design in the shape of shelves and storage units using the same tubular steel structures. Again this is a modular system so that products can be bought individually or combined in different ways. As ever, the designer is also striving for multi-functionality so the sideboard can also be used as a room divider and Thonet emphasise that these products are all suitable for both commercial and residential use.
Vitra too is using Milan to remind people (if they need reminding) of their heritage as one of the world's finest and longest standing proponents of the classic office/domestic/hospitality crossover product. You can take your pick with classic designs when it comes to Vitra who will be reacquainting visitors with new editions of Charles and Ray Eames aluminium collection as well as introducing them to contemporary pieces from the likes of BarberOsgerby, Jasper Morrison, Hella Jongerius, Ronan and Erwan Bouroullec and Michel Charlot.
Jasper Morrison is also the designer of the new Cap Chair 2 from Cappellini, a stylishly contemporary leather chair that would look at home in a wide range of environments.
____________________________________

Justin Miller is the sales director of office furniture and ergonomics specialist Wellworking.