April 3, 2014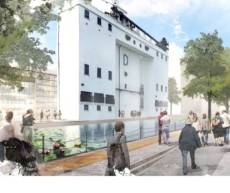 Plans have been released for the £1.5 billion redevelopment of Silvertown Quays in the East of London. The 7 million sq. ft. mixed use scheme will cover 62 acres on the site of the Royal Docks directly opposite the Excel exhibition centre. The development will include around 2.5 million sq. ft. of commercial and retail space, and some 2,500 new homes along with education, research and exhibition facilities. As announced by London Mayor Boris Johnson in 2013, one of the key features of the  project will be an avenue of 'brand pavilions', where companies from across the world will be invited to showcase their products. The district will be served by a new bridge connecting it to the ExCel site giving access to transport links, including the new Crossrail station with express services to the City of London, West End and beyond.
The development is seen by the Mayor as a key part of his commitment to regenerate the Royal Docks into a major new business district. It is the latest in a string of investments in the area, including the recently announced ABP business port at Royal Albert Dock, Siemens Crystal Centre, the UK's first urban cable car, Emirates Air Line and new homes at Great Eastern Quay.
The scheme is managed by Silvertown Partnerships – a consortium of Chelsfield Properties, First Base and Macquarie Capital with Fletcher Priest creating the master plan, Arup as infrastructure engineer and environmental consultant, Quod as planning consultant, Donald Insall Associates as heritage architect and Civic Arts as conceptual masterplanner.
Richard Blakeway, deputy mayor for housing, land and property, said: 'The Mayor is overseeing an enormous transformation at London's Royal Docks. Returning this historic area to its former glory as a hub of businesses and enterprise, the regeneration of Silvertown Quays will create thousands of new homes and jobs in London's east end, and make the Docklands a go-to visitor destination, helping to unlock the economic potential of the surrounding area.'
Announcing the plans, Sir Stuart Lipton, of the Silvertown Partnership, said: 'We want to secure the future of the Royal Docks:  our vision for Silvertown Quays will re-engage the heritage of enterprise and innovation in the Royal Docks; securing a vibrant future by creating up to 14,000 new jobs and 2,500 new homes in a new and enlivened waterfront destination. We are delighted with the positive response from the local community and the revised plans demonstrate how local people have influenced the evolution of our proposals.'