May 25, 2015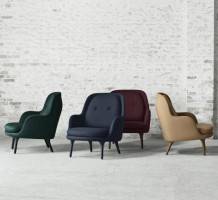 The last time I attended ICFF in New York, the show was weak, eclipsed by myriad design events around the city and not quite sure of where it fit in. That was a few years ago. This year, it was bigger and better in many ways. ICFF is very much alive, thriving in fact. The show has exploded in importance, size and scope in a few short years. Many in the office furniture industry who gave up on ICFF need to return. Others are seeing the value of the show and the surrounding events (which continue to grow as well) for the first time. Still, for the office furniture world, ICFF is more about art, design and ideas such as chairs from Fritz Hansen (above). Don't come to rub elbows with your contract furniture colleagues. Instead, come to be inspired by what is possible – even though some of it is more bespoke that this industry is used to.
BuzziSpace is a first time exhibitor and owner Tom Van Dessel said ICFF is a great show to connect with designers on the East Coast, even for a company that focuses more on contract. "Last year we talked to the organization (that puts the show on) and that wanted to have more or a contract presence," he said. "For design in general, this is a very good show. There is a large cross section of designers and a lot of East Coast designers who come to this show that might not make it to Chicago."
It is a show to see the latest trends, which on the first day is warmer, rounder and woodier than it has been in recent years (walnut is everywhere). A good example of this is the amazing collection of tables by Ignacia Murtagh for Bernhardt. Vitra, with one of the largest booths in the show, was clad in cool, creamy colors, including the greens that were first seen at Orgatec. Though colors have softened in many booths, there are splashes of color throughout the show. two.six is using bright colors on its line of plywood furniture.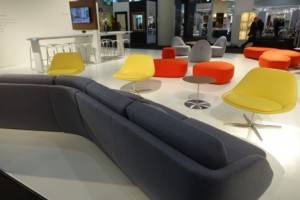 Everything seems a bit softer as well. Industrial styling, which has been so prevalent in recent years, is softening too with the rough hewn wood and metal giving away to sweeping curves that are much smoother around the edges. Interestingly, plywood continues to gain ground among furniture makers who are taking advantage of CNC machines to create geometry that would be difficult without the technology.
Folditure is a small company that uses plywood and metal to make furniture that folds up and is easily stored. President and Chief Designer Alexander Gendell said the Leaf Chair the company introduced last year folds onto itself and is about a half-inch thick. It is made from aluminum composite panels usually used for skyscraper cladding.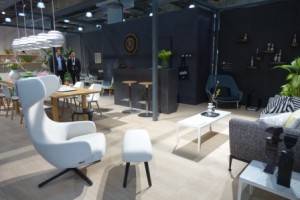 This year he is showing off a set of chairs that fold flat and are mounted in a frame on the wall. "It is the art of saving space," he said, explaining that furniture like his will be necessary as space becomes scarce, noting that 70 percent of the world's population will be living in urban areas by 2050. Folditure is made in Hoboken, N.J. and can be flat-pack shipped anywhere in the world for around $200, though the pieces themselves cost about $1,000 for a chair and around $1,500 for a table.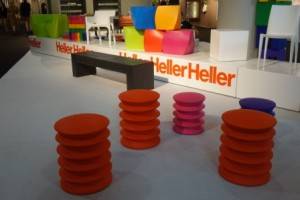 Quite a few products at ICFF are handmade and bespoke. Take the Nodo Chair. It is made in Mexico from thousands of nylon threads, strung to make a beautiful lounge chair. It can be created in any color imaginable or a rainbow combination, said Pablo Iriarte, principal and interior designer. It can also be done in corporate colors as well. "Everything is made by hand in Mexico," he said. "The idea is to sell and a lot of people have come by the booth who are interested."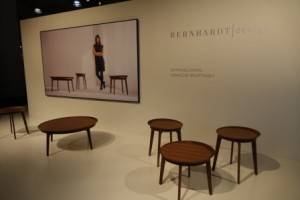 The Urbanite Home came all the way from Belfast, Northern Ireland to show its furniture made from recycled 55 gallon oil drums. Phil Davison designed the furniture after seeing discarded oil drums outside of his brother's office. It is the first time the furniture has been shown in the U.S. "We've only been open a few hours and we already have several designers interested in it," he said. The recycled oil drum rocker costs $1,092.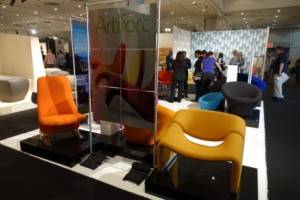 The furniture ranged from the high-end sublime (with equally extravagant prices) to the utilitarian. Jumbo Bag is an oversized bean bag chair made in Toulouse, France that is decidedly different from the mushy bags found in the rooms of teenage stoners. Instead of sitting on the ground, the bags sit upright. CEO Pierre Coreggi said they are perfect for break out rooms and trade shows; anywhere a perch is needed. One version of the Jumbo Bag also can be used as a pool float in addition to a chair.
Furniture is a major part of ICFF, but fixtures, carpet, fabric and wallpaper. One wallpaper company, twenty2, had 3D wallpaper. Show attendees donned 3D glasses and could see patterns like flowers that seemed to float from the wall and Viking ships that looked as if they were being tossed on a rough sea.
There are other surprises at the show as well. Sauder, which is known for its cheap ready-to-assemble furniture, was showing off its Sauder Boutique collection, an "elevated brand" said Sawn Sowers. "There are companies here showing off $5,000 credenzas. We are showing off our credenza for $699. Nothing in our booth retails for more than $899," he said.
It looks good as well, though it is a bit of a shock to see Sauder showing cherry veneers, solid wood and copper accents. "We are the biggest, oldest furniture company that no one here has heard of," Sowers said. "Yet a lot of the companies here don't have the logistics or experience to export."
What's most surprising, perhaps, is the number of companies that are not here, but should be. Herman Miller used to be a major part of ICFF, but didn't exhibit this year, which is a head-scratcher since the company acquired Design Within Reach and is pushing its Living Office ideas. Knoll was absent too, though its major New York presence makes up for it a bit. The show organizers tried to put together an office furniture pavilion at ICFF, but it didn't quite come together this year. Contract or residential – ICFF is worth a look, especially as it grows.
The companies that cross over between office and home that did exhibit praised the revamped ICFF, double the size it was last year and committed to taking over the entire Javits Center as it grows. Fritz Hansen showed off its Fri Chair and held an event in New York over the weekend to show off the new colors available for its Series 7 chair, which is celebrating its 60th anniversary. The company is selling a pair of limited edition Series 7 chairs — one in feminine pink with a 24 karat gold base and another masculine in blue with a bronze base. They retail for $853 each and will be produced for a short time.
So after losing its way a bit, ICFF is back.
______________________________________________

Rob Kirkbride is the senior reporter and associate editor at Monday Morning Quarterback, the market-leading source of strategic information for the leaders of commercial furnishings businesses in the US and around the world. Founded in 1979 to create and publish a national newsletter, the company has evolved into the leading source of insider perspective on workplace design and construction.