May 24, 2015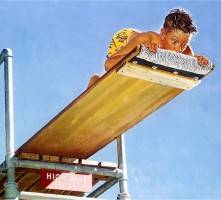 British businesses run the risk of missing out on the opportunities offered by the latest generation of mobile technology according to a new report from Vodafone. The YouGov study of more than 1,200 decision makers in both the public and private sector found that the majority of UK organisations are yet to introduce 4G. Nearly two thirds (64 percent) of respondents said their business or organisation does not have 4G right now and a perhaps more surprising 41 percent of those have no plans to adopt it. The survey found that cost was not generally seen as a barrier to implementation compared to more prevalent issues including a widespread misunderstanding of what 4G might offer the enterprise. Even a third of those organisations who have introduced 4G confess they don't believe it offers any additional benefits.
Overall, however, the survey claims that businesses who have upgraded to 4G understand the ways in which it can help them by improving customer service and enabling flexible working. Benefits cited include:
Increased speed for data transfer (51 percent)
Faster responsiveness to customers (and suppliers) (43 percent)
Ability to use all business applications when working remotely (48 percent)
Better flexible working (42 percent)
According to the report, the majority of businesses that yet to make the move to 4G also perceive similar benefits. Despite not having 4G, 41 percent said downloading, transferring and accessing data-heavy content is important to their businesses and nearly all said speed (95 percent) and capacity (97 percent) are key factors when doing so.
While there are many businesses yet to embrace the latest in mobile technology, it would appear that small and medium-sized enterprises (SMEs) are falling furthest behind in the private sector, with only 24 percent of those surveyed having 4G compared to 39 percent of larger businesses.
Nearly a quarter (24 percent) of SMEs recognise that faster responsiveness to customers and suppliers is amongst the main benefits of 4G, and more than a third (35 percent) of SMEs confirming that customer service is one of their top three business priorities.
With mobile data usage increasing at an exponential rate, over two in five SMEs (41 percent) say downloading, accessing and transferring media rich/data heavy content is important to their business and over two-thirds (67 percent) view mobile connectivity as important, indicating that 3G may not suffice in the long term if they are to remain competitive.
Phil Mottram, UK Enterprise Director of Vodafone UK says, "Businesses need to be ready to take advantage of the tools and technologies that can give them the competitive edge today and in the future. Now is the time for those businesses which are yet to invest in 4G to do so and to start benefiting from its full potential."
"While the perception of cost is still stopping businesses from taking the step towards 4G, the significant knowledge gap of what it can offer UK businesses is a challenge. With customers' expectations on service delivery and responsiveness at an all-time high, we have committed ourselves to making 4G more accessible and affordable, with competitive pricing and continuous network investment, enabling businesses to meet their customers' demands, whenever and wherever staff may be. This has been the driving force behind the extension of our 4G coverage to over 500 cities and towns across the UK and the £1 billion we've invested in our network and services in the UK this year."