May 24, 2015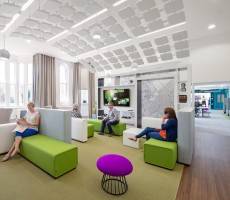 Office costs are falling worldwide, in part because occupiers are using space more intensively, according to the latest Office Thermometer report from commercial property firm DTZ. The report found that the West End of London has comfortably retained its position as the world's most expensive location. The average annual cost of a workstation in the area is $29,000 (about £19,000), fully a third higher than second placed New York. The report found that office costs continue to fall significantly in most regions, nearly 4 percent overall on average, although there were increases in fast growing local markets, especially in the Middle East. According to the study, more intensive use of office space by occupiers, an appreciating US dollar, weak economic growth in Europe and significant new supply in emerging markets have combined to cut costs worldwide.
Asia Pacific saw the fastest decline in USD workstation occupancy costs with an 8.3 percent decrease. Europe wasn't far behind with an average decline of 7.8 percent. Workstation occupancy costs in North America and North Asia increased by 4.8 percent and 2.5 percent, respectively.
On a city level Moscow saw the sharpest fall in USD workstation occupancy costs in 2014, falling by a third on a USD basis. Other Eastern European cities including Bucharest (25 percent), Bratislava (23 percent) and Prague (21 percent) also posted sharp falls.
In contrast to this global trend, London's West End saw workstation costs rise sharply. At $29,000 per workstation, it is 11 times more expensive than the cheapest European city Lisbon. Dublin registered the fastest increase in workstation occupancy costs in Europe with a rise of 13 percent in 2014 with London just behind on 11 percent, although Dublin remains significantly cheaper than London.
Some of the sharpest increases were in Middle East & Africa markets. Abu Dhabi saw the fastest increase in occupancy costs of any city in our global ranking in 2014, increasing by 36 percent on a USD basis. Other Middle East markets also saw some of the fastest increases notably Jeddah (20 percent) and Riyadh (11 percent). Similarly, occupancy costs in Lagos increased 8 percent. Dublin posted the fastest increase (13 percent) in Europe, echoing the turnaround in the Irish economy. London (West End) witnessed the second fastest increase (12 percent).
Top 10 Most Expensive Cities, USD per workstation, 2014
London – $29,340
New York – $22,990
Hong Kong – $21,110
Lagos – $19,080
Zurich – $15,210
Geneva – $15,160
San Francisco – $15,070
Luxembourg – $14,370
Paris – $13,690
Doha – $13,590
Richard Yorke, Head of Global Occupier Research, and report author, said: "the appreciation of the US dollar has had a significant impact on the relative affordability of global cities. Nevertheless, our analysis of workstation costs in local currency terms also demonstrates the dampening impact of economic weakness in Europe. Similarly, the glut of new supply in some emerging markets is eroding workstation occupancy costs. In addition occupiers are using space more intensively, especially in expensive cities such as New York."
James Maddock, Head of Global Occupier Services in EMEA, added: "London's West End continues to power ahead as the most expensive City on the planet to have a desk and there are no signs that this will slow in the near future. The lure of London remains strong for occupiers who see the value of having space in one of the world's major financial and business centres. It will be interesting to see the debate around the proposed EU referendum and what this means for London's position as a destination of choice for many of the world's major corporations."
The report concludes that international occupiers will continue to benefit from ebbing cost pressures in numerous office markets. Overall global workstation occupancy costs are expected increase on average by just 0.5 percent per year over the next two years, on a local currency basis. Occupiers in North America will enjoy an annual 1 percent cut in workstation occupancy costs in 2015 and 2016. Conversely, Asia Pacific is expected to post the strongest average growth of 1.7 percent. Greater China, however, costs are likely to remain unchanged. Similarly, EMEA cost increases are set to average just 0.8 percent.
Image: Citrix Systems, design and fit-out by Area Sq