July 6, 2016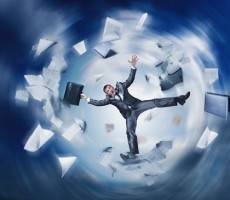 The political fallout since the Brexit vote has left many feeling that the UK's politicians could do with brushing up their leadership skills and prompted debate on whether some of those whose ambitions have been derailed might bounce back. A timely report from the Chartered Management Institute offers advice on the management skills they might need to employ in times of uncertainty. The report claims that within the world of business, unsupportive cultures leave managers to struggle with the fall-out from crises. Most managers (94 percent) have faced crises during their career, but only half (55 percent) have handled them professionally, according to Bouncing Back: Leadership lessons in resilience. The absence of professional management ranks as a major factor in the cause of crises in the survey of 1,100 managers; 78 percent blamed a lack of support from senior management and 68 percent cited culture failure as responsible.
CMI's chief executive Ann Francke says that the findings of the report must be taken on board by the nation's political and business leaders: "Brexit will claim the careers of many political and business leaders for whom failure – and its consequences – are foreign territory. But the ability to cope with it is the grit from which true leaders are made. The knockbacks that come from crises teach you how to tough it out, survive and grow – but only if you're ready to learn."
Francke adds: "We need a culture in which it's ok for leaders to have the confidence to say "I don't know" when they don't have the answers. Doing so creates a sense of 'we're all in this together' that picks people up when they fall. They'll come back stronger and with the trust of the people they lead."
The most common workplace crises are significant conflict with a colleague (54 percent), unfair treatment (49 percent), closely followed by project failure (36 percent). Managers struggled to deal with these crises, eight in ten (81 percent) managers said their confidence suffered as a result and almost two-thirds (63 percent) said their capacity to do their job suffered. This was worse on a personal level, only 36 percent believed they dealt with the emotional impact well and 82 percent of managers described this emotional impact as severe of very severe.
The report includes the reflections of professionals who have suffered high-profile challenges: Lord Browne of Madingley, Rachel Lowe, Stephen Robertson, Ivan Massow, Charlotte Proudman and Nick Leeson.
Lord Browne of Madingley who lost his position at BP due to misrepresenting his personal circumstances said: "The future is the only thing that matters, the past is not important. It is what it is and we move forward. Those at the top of an organisation should set the right tone, that inclusion is the single most important feature of leadership."
Amongst managers that had dealt with a crisis, three quarters (77 percent) take a more active approach to risk management. This includes encouraging colleagues to discuss learnings more openly (81 percent), and communicate more effectively (83 percent).  Most managers who have overcome adversity (84 percent) said that, as a manager, they are more prepared to handle a similar crisis in the future, and 85 percent say they now actively work to create and maintain a good workplace culture.
Rachel Lowe, whose original business went bankrupt, highlights the importance of resilience:
"When everything went wrong the effects were devastating. I lost absolutely everything. It wasn't just a case of losing the business; it was very much a case of losing my mental state of mind. It takes courage to come back. You have to remember the successes, the positives, and keep going."
CMI's recommendations for leaders and managers coping with Brexit include:
Failure is acceptable – just so long as you learn from it Destigmatising failure is essential for creating a resilient organisational culture. Senior managers must provide their support to help employees cope with knockbacks and failure, and to learn from it.
Accept, re-evaluate and face forward Managers who have survived and bounced back from crises say that taking responsibility, facing reality and looking forward were essential to helping them bounce back
Having the right mindset for resilience People and communication skills, as well clear strategic thinking, are all named by managers as the three most effective tools for dealing with a crisis.