August 22, 2023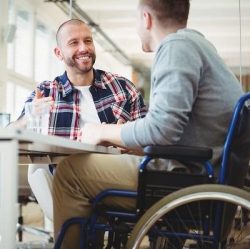 In business, companies have a responsibility to balance profit-driven strategies with wider social commitments. As well as being the right thing to do, a focus on the latter can invariably drive economic value. Companies that prioritise diversity, for instance, earn 2.5 times higher cash flow, while inclusive teams are 35 percent more productive. As a result, diversity in the workforce is now widely accepted to be both a moral necessity and a commercial opportunity, with more and more corporates incorporating DE&I policies into their operational frameworks. Despite this progress, the disability community is still largely excluded from these discussions around inclusion. 
A report from the Return on Disability Group found that, although 90 percent of companies claim to prioritise diversity, only 4 percent actually include disability in their workplace policy. This exclusion has consequences that are detrimental not only to persons with disabilities (PWD), but to corporates too.
In total, firms lose around $13 trillion each year in sales by failing to reach the consumer group of PWD, a study by Accenture revealed. And that's in addition to missing out on the diverse talent and unique perspectives that PWD contribute to a workplace ecosystem. Companies that make disability inclusion a priority double their net income, witness a remarkable 28 percent increase in revenue, and enjoy 30 percent higher profit margins over a four-year period – numbers that demonstrate the strength of the commercial case for championing inclusion in the workplace.
Addressing this prevalent issue of disability exclusion must start with enhancing accessibility – both within the office and beyond it. From improving digital accessibility on company websites and physical accessibility in the workplace, to ensuring user-friendliness for PWD in product design and recruitment processes, the path to inclusion begins by involving the disabled community right from the outset.
The Valuable 500 – the global business partnership of 500 companies working together to end disability exclusion – employs the mantra 'nothing about us without us' as a way to encourage companies to harness the invaluable insight of PWD when it comes to product design and services. Caroline Casey, disability activist and founder of the Valuable 500, often says that "inclusion without accessibility is a delusion." Indeed, it's clear that achieving accessibility requires input from the disability community.
Looking at companies which are credible champions of accessibility reveals both the possibilities and benefits of disability inclusion. Facility management company
ISS, for instance, recently collaborated with Mobility Mojo – a disability-owned software solution empowering accessible workplaces – and consequently became the first workplace in the world to receive a platinum accessibility score.
Other Valuable 500 companies such as Tesco, BP, and Unicredit have also been working to make their physical workplaces more accessible, partnering with Access4you to obtain a true understanding of what inclusivity looks like to PWD, and consequently reaching a whole new group of prospective employees and consumers.
Multiple businesses have achieved an increase in commercial success by appointing disabled people to leadership positions. P&G, for one, created a new role 'Accessibility Leader' for Sam Latif, who is blind, and who has been responsible for some of their most impactful product designs, including Olay's new Easy Open lids, Herbal Essences' tactile markers and Clearblue's Be My Eyes app.
The significance of these initiatives reverberates across sectors. Inclusion that transcends tokenism has a transformative impact on business and society at large, with more companies recognising disability inclusion not merely as an obligatory act, but as an avenue to channel diverse talents, perspectives, and experiences towards innovation and growth.
Striking the balance between financial growth and social progress requires intentionality. It mandates a strategic approach that moves beyond lip service and integrates real, actionable steps. A great place to start is proactively involving the disabled community in the path to a more accessible world.