May 28, 2014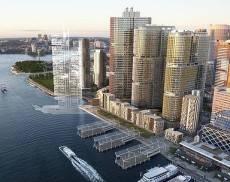 One of Sydney's landmark new office towers has just been awarded a 6Star Green Star –Office Design V3 rating, the Green Building Council of Australia's highest environmental accreditation. South Tower 2 in Barangaroo South is part of a $6 billion carbon-neutral development alongside Sydney Harbour. The 42 storey skyscraper is part of a three commercial building cluster in Barangaroo South called International Towers Sydney. Each of the buildings incorporates arrange of sustainable features including cooling systems using water from the harbour and solar shading. The buildings also make use of the development's shared environmental features including an on-site backwater treatment plant which will recycle up to one million litres of water a day for use by the local community. The intention is to create a world class sustainable community in the city.
"Energy efficient design, on and offsite low carbon and renewable energy teamed with zero carbon waste treatment and commuter carbon emission offsets, will result in a net carbon neutral outcome for the precinct's operational energy use," said Tarun Gupta, Lend Lease's chief executive officer who is responsible for the development of the towers.
Tower 2 is now the largest building to receive the 6 Star Green Star – Office Design V3 rating.