June 14, 2022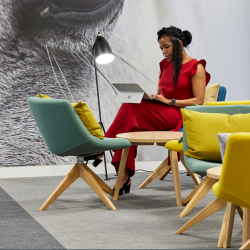 The British Council for Offices (BCO), has released a position paper proposing updated key design criteria, as part of its most recognised publication, the BCO Guide to Specification. The guide, which is normally published every 4 or 5 years, provides expert best practice advice on how to specify office space, helping industry practitioners provide space that meets the needs of occupiers, helping them to conduct their business in safe, healthy, comfortable, and productive workspaces.
This update comes ahead of schedule and is in response to significant changes to the office sector since its last publication in 2019, with the pandemic drastically transforming the way in which we work and use the office.
Key drivers of change identified in the 2019 Guide to Specification remain unchanged. These include focus on people experience and well-being, drive for creativity and productivity, use of technology, adaptability for the long term and economic value and return on investment. However, what had not been anticipated from these broad trends was the accelerating rate of change induced by the pandemic and the increasing adoption of net zero carbon targets across the business world.
The single most important criterion however is occupancy. The BCO's current view is that occupancy peaks will be no greater, and utilisation no higher than pre-pandemic levels, when the return to work has stabilised. It warns that offices should avoid over specification, minimise waste, and move progressively towards net zero carbon, in both construction and operation.
The BCO also considers broader influences such as changing standards and planning requirements, adoption of new technology, and the desire to continually improve the user experience in the workplace.
The paper additionally outlines new recommendations for office design; some considerations included are:
Lower average occupancy densities
Reduced small power and lighting load allowances
New criteria for office lighting and daylighting
Revised lift and toilet provision and new sustainability targets
An extended range of structural grid sizes
Improved ventilation, with a higher rate of outdoor air supply per occupier, and better indoor air quality
Some recommendations from the 2019 Guide remain unchanged and these can be found in Appendix A9 of that document.
The intention of these updates to the BCO Guide Key Criteria is to reflect changes in design thinking over the last three years, through the BCO's aim to capture and share best practice guidance informed by research and the expert experience of its members.
Many of these criteria will be discussed and explained further at the BCO's annual conference in Manchester this week, where industry experts will expand upon the most pressing considerations for office designers, gauge the views of the broad membership and debate the proposals.
The principal authors of the position paper are Neil Pennell (Landsec), Peter Williams (Stanhope), Peter Stocks (Cundall) Saul Tyler (Hoare Lea). T
Richard Kauntze, Chief Executive of the BCO, said: "Recent disruptions have changed the way we use our office spaces, while our continued focus on tackling the climate crisis, changes in regulations and improvements in technology have all accelerated the desire for renewed design guidance to meet the evolving needs of occupiers. My sincere thanks to all BCO members and experts who contributed to this position paper which puts the BCO at the centre of the debate to inform the design of the next generation of office buildings in the post pandemic, net zero carbon world."
Image: HMRC award winning offices designed by AECOM