October 9, 2014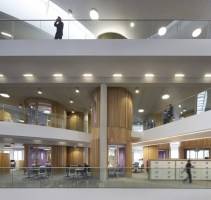 The BCO has announced the winners of its prestigious annual National Awards to honour what it considers Britain's best workplaces. The overall winner was Number One Riverside in Rochdale (above). The office, home to Rochdale Metropolitan Borough Council, was also recognised as the Best Corporate Workplace in the UK, and topped a list of six other award winners recognised for excellence in office space.  Number One Riverside was singled out by the judges for its consolidation of the Council's estate from 33 buildings into one. The project is also the centrepiece for the first phase of a major regeneration in the borough of Rochdale, 'providing a new civic office that promotes new ways of working and creates a sense of community, engagement and social transparency.' The building was commended by the judges for its incorporation of a range of public space alongside the workplace, including a library and cafe and customer service facilities.
The other award winners were:
Commercial Workplace: One Eagle Place, London
Refurbished & recycled: The Council House Derby
Fit Out of Workplace: Arthur J. Gallagher, The Walbrook Building, London
Project up to 2,000m2: Argent 4 Stable Street, London
Innovation: The Sharp Project, Manchester
Test of Time: Guardian News & Media, Kings Place, London
Tim Robinson, Head of Property Asset Management at Knight Frank LLP and BCO Awards Chairman commented: "Number One Riverside is a true catalyst that will facilitate the transformation and regeneration of the borough of Rochdale. The competition in this year's National Awards is as tough as ever, with expectations set very high, but this project united the judges in its success and importance as a focal point for Rochdale."
Richard Kauntze, Chief Executive of the BCO, said: "Each of the buildings recognised in this year's National Awards represent the very best in visionary office design and functionality. They demonstrate how taking an occupier-centric approach can create innovative and efficient spaces that, as an industry, we can be very proud of. Together, the winning buildings reflect a strong sense of confidence and positivity in the office sector. Number One Riverside, the 2014 Best of the Best winner, is the epitome of this with the confidence taken in its original brief and concept leading to it becoming a new benchmark for semi-public buildings. All shortlisted and winning entrants should be congratulated on their efforts in continuing to showcase the impact intelligent office design can have to businesses."
Full details of all the winners and shortlisted finalists can be found here.