April 30, 2014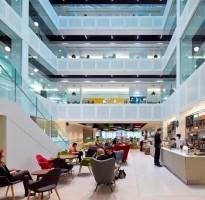 Yesterday the British Council for Offices announced what it considers London and the South East's best recently completed workplaces at an awards dinner. The winners included One Eagle Place, BBC Broadcasting House and Brent Civic Centre, who will now go forward to the national awards which will be announced in October. Earlier this month, the regional finalists for Scotland, the Midlands and East Anglia were announced. Ceremonies will be held to announce the regional winners for the North of England and South West during May. Yesterdays' event saw PwC's One Embankment Place designed by t p bennett crowned as Refurbished/Recycled Workplace, Argent's One Stable Street office win the small office category, while the award for Best Fit Out of a Workplace went to The Walbrook Building designed by Scott Brownrigg. The renovation of BBC Broadcasting House and Brent Civic Centre shared the award for Best Corporate Workplace.
The £90 million Brent Civic Centre development opened last October as part of the £3.4 billion Wembley park regeneration project. The judges commended the building's architecture the example it set of a local authority's commitment to innovative regeneration. The centre also claims to be the greenest public building in the UK.
One Eagle Place in Piccadilly won the award for Best Commercial Workplace, with the judges claiming that it demonstrated how 'a daunting and challenging project was handled bravely and sensitively'.
Winners of the Scottish Awards announced earlier in April at a dinner in Glasgow included the UK Green Investment Bank headquarters in Edinburgh which won in the category of best project up to 2,000 sq. m. and the £75 m Scottish Crime Campus in Lanarkshire for Best Corporate Workplace design.
The Midlands and East Anglia regional dinner, also held in early April, saw awards handed to Two Snowhill which was named as best commercial workplace, Seco Tools' headquarters in Warwickshire for best corporate workplace, the Council House in Derby (Refurbished/Recycled Workplace), Alconbury Incubator Building, in Cambridgeshire (projects up to 2,000 sq metres) and PwC's offices in Norwich (Workplace Fit-out).