April 29, 2014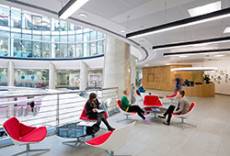 We all know the ways in which we can 'do our bit' at home – turn off the lights when you leave a room, only boil as much water as you need, recycle as much as you can. At work however, it can be all too easy to forget and ignore the impact we have on our environment. Intelligent and inspired office design can not only increase productivity and employee wellbeing, but also be sustainable and provide financial benefits as a result. Although there were established tools for assessing the environmental impact of whole buildings, such as BREEAM and LEED, the certification of fit-outs, especially on existing buildings, had previously been unsatisfactory. To address this, the Ska Rating method was developed by the Royal Institution of Chartered Surveyors.
For the first time, Ska brings together the expertise and requirements of designers, contractors, corporate occupiers, managing agents and consultants.
The Ska Rating process consists of 104 individual good-practice measures covering Energy and CO2, Waste, Water, Materials, Wellbeing, Pollution and Transport with assessments carried out at three stages: Design, Delivery and Occupancy. Projects can achieve ratings of Bronze, Silver or Gold based on meeting a percentage of measures relevant to the project's scope of works.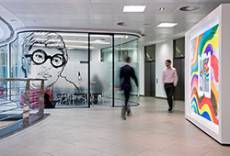 We are proud to be one of the UK's industry leaders in delivering Ska Gold sustainable refurbishment projects in the UK is Area Sq – a leading office design and fit-out specialist and part of Fourfront Group. In January 2014, the company delivered their 13th Ska Rating Gold project and was confirmed by RICS as delivering more Ska Gold projects than any other company. Area Sq has led by example, securing Ska Gold for their own London and Egham offices, and the company ensures sustainability is a core aspect of every project they deliver.
According to figures from our own sustainability guides, water efficient taps and showers in offices can reduce water usage by as much as 30% a year; whilst upgrading existing light fittings to LED and high frequency fluorescent lights can yield a 45% return on investment in two years and reduce energy consumption by 25%.
At our Newman Street office in London, Area Sq offers a Cycle to Work Scheme, and has showers, lockers and secure bike storage to help reduce the carbon footprint of everyone who works there. Of the materials used when Newman Street was first fitted out, 92% of the waste generated was diverted from landfill and 80% of the materials used contain recycled or recyclable content.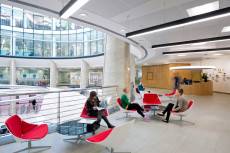 Other examples of sustainable refurbishment projects can be seen elsewhere in Area Sq's catalogue of work. Partnership Group, following a recent Ska Rating Gold fit-out, is projected to reduce energy usage and lower operating costs by up to 31% having implemented energy efficient lighting and HVAC, whilst CMG (pictured) is projected to save over £50,000 a year from electric, gas and water-efficiency initiatives that have been incorporated into the design of their new offices.
 A wide range of guides on sustainable office design are available from Area Sq and parent company Fourfront Group. You can view and download these guides on Ska Rating and other related subjects here.
______________________

Ben Murray is Head of Marketing at Fourfront Group, the parent company of Area Sq.