March 6, 2015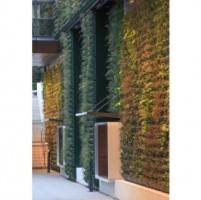 A Grade A listed building at London's King's Cross; a former industrial warehouse complex in London's Clerkenwell and an office building off Paris' Champs-Elysées were among the award winners for best performing buildings assessed under sustainable buildings standard BREEAM. Over 50 green projects from across Europe were shortlisted with eight awards going to UK-based projects and four others shared equally between France and Norway. Winner of 'offices new construction' is One Pancras Square, a Grade A office building based at the gateway to the King's Cross development. 'Offices in use' winner Washington Plaza is a 47,097 sq.m office building, at 42 rue Washington 75008 Paris. 'Offices refurbishment and fit-out' winner Morelands sits at the junction of Old Street and Goswell in London's Clerkenwell area and comprises a cluster of warehouse buildings built around a U-shaped courtyard.
A panel of independent judges including architect Bill Gething, Claudine Blamey of the Crown Estate, Alan Cole of the Home Office, Mike Smith of BSRIA, Louise Sunderland of the UK Green Building Council and Thomas Lane of
Building magazine selected the winners from a shortlist of the highest scoring buildings in each category.
Their decision, which was announced during EcoBuild this week, was based on the specific circumstances, challenges and achievements of each development as well as the very high BREEAM scores achieved.
Other high scoring projects commended by the judges included the Diageo Guinness Brew House in Dublin, DC1 Prologis Park in Dunstable, the WWF-UK Living Planet Centre in Woking, BLOX in Prague and 10 Burlington St and 18 Hanway Street in London.
Amongst the many energy saving elements of the One St Pancras Square scheme was the reduction of carbon emissions due to a natural ventilation mix mode cooling strategy with a floor plate designed to enhance day lighting.
Washington Plaza features a green wall and an emphasis on creating inhabitants health and wellbeing, with green spaces, lounge-style spaces, as well as work spaces designed to improve access, use and circulation of people.
Morelands many green features include two light wells that promote natural light, as well as energy efficient heating and cooling. To view the complete list of winners click here.