December 7, 2016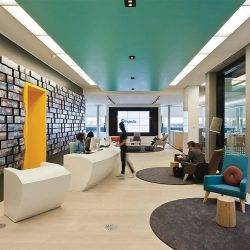 Recruitment site Glassdoor has announced the winners of its ninth annual Employees' Choice Awards to find the best places to work in North America and parts of Europe. The Awards are based on the input of employees who voluntarily provide anonymous feedback, by completing a company review, about their job, work environment and employer over the past year. This year, the Glassdoor Employees' Choice Awards feature six categories, honouring the Best Places to Work across the UK, US (both large and small companies), Canada, France and Germany. There is one category in the UK: 50 Best Places to Work (honouring employers with 1,000 or more employees). Winners are ranked based on their overall rating achieved during the past year.  The top five UK Best Places to Work in 2017 are Expedia, ARM, HomeServeUK, Mott MacDonald and Hays plc
Glassdoor's 50 UK Best Places to Work in 2017 list features winning employers across diverse industries with technology and retail dominating, but also companies in finance, accounting, energy and more. Expedia is the first company in the UK to rank No. 1 twice, and is among only ten employers that have made this list for three consecutive years. Twenty four employers are debuting as Best Places to Work this year, including HomeServe UK (Third; 4.3 rating), Peninsula (Sixth; 4.2 rating) and Salesforce (Eighth; 4.2 rating), among others.
[embedyt] https://www.youtube.com/watch?v=b_H5W4yEncQ[/embedyt]
When employees submit reviews about their company on Glassdoor, they are asked to give their opinion on some of the best reasons to work for their employer (pros), any downsides (cons) and are encouraged to provide advice to management. Employees are also asked to rate how satisfied they are with their employer overall, rate their CEO, as well as rate five key workplace attributes, including giving their opinion on career opportunities, compensation & benefits, culture & values, senior management and work-life balance. In addition, employees are asked whether they would recommend their employer to a friend and whether they believe their employer's business will perform better, worse or remain the same in the next six months.
COMPLETE RESULTS: Glassdoor's Best Places to Work 2017 – UK
1. Expedia
Company Rating: 4.3
"Amazing leaders, very accessible and communicating a lot with all employees. Flexible environment (cope easily with having children or other lifetime events)." Expedia Area Manager (London, England)
2. ARM Holdings
Company Rating: 4.3
"The atmosphere in the company is really great. I see everybody keen to help each other and lots of new cool technology stuff every day. There are lots of internal training opportunities and a whole bunch of internal sessions about new technologies being developed." ARM Holdings Software Engineer (Cambridge, England)
3. HomeServe UK
Company Rating: 4.3
"It's an exciting, dynamic, growing company. The focus on customers and employees, makes it impossible for you not to thrive here (unless you don't want to thrive, of course). I've had 3.5 great years and am proud of what the company has done, but also proud of what I've contributed personally." HomeServe UK Senior Digital Marketing Manager (Walsall, England)
4. Mott MacDonald
Company Rating: 4.3
"A firm that you join for a career and not a job. The fact that the firm is owned by the senior staff makes a real difference. Always looking to make the right decisions for the future." Mott MacDonald employee (London, England)
5. Hays Plc
Company Rating: 4.3
"Hays is a genuine career company. They will support & develop you provided you show the drive & ambition to be a successful recruiter. Hays are very customer focussed & believe in doing business in the right way. The working environment is fantastic – fast paced, fun and exciting. Rewards are excellent, the commission schemes really promote high performance and the incentives are brilliant." Hays Plc Director (Manchester, England)
6. Peninsula
Company Rating: 4.2
"I have worked with Peninsula in the health and safety department for approximately three years, over this time I have seen an unbelievable amount of growth, which has led to opportunities for employees to progress their careers throughout the business. I have found that Peninsula recognises, in most cases its employees are its greatest asset and the company tries hard to retain those who are motivated and demonstrate their achievements through a high standard of training and incentives." Peninsula Business Safety Technical Advisor (Manchester, England)
7. Unilever
Company Rating: 4.2
"Flexible working hours along with a team full of friendly people who want you to learn as much as possible is the best part about it. Each Brand Manager also loves their brand personally which makes them put so much effort into their work." Unilever Assistant Brand Manager (Leatherhead, England)
8. Salesforce
Company Rating: 4.2
"Salesforce is an amazing company! It has a strong and inclusive culture as well as great people. It offers lots of opportunities for career growth and defining your own path as well as very good salary.
Lots of learning opportunities. I joined as an experience architect but without experience of Salesforce. My first 90 Days at the company were an educational ramp program designed to immerse me in all the offerings of Salesforce. Really helped me to get up to speed." Salesforce Program Architect (London, England)
9. Screwfix
Company Rating: 4.2
"There are countless pros. Real team spirit, fantastic opportunities to progress and make a career for yourself (note, this does not include slackers!), great customer base, supportive staff and managers. In company training in health and safety, first aid and city and guilds in retail management." Screwfix Customer Service Supervisor (West Bromwich, England)
10. First Derivatives
Company Rating: 4.2
"The company is filled with well educated and sociable people. The company organizes get-togethers for staff to meet outside of the workplace. This could be dinner and drinks, paintballing, watching a match… Nearly anything. There are incredible opportunities for travel. You could be sent to Singapore, New York, London, Sydney… The potential is endless. And with the great expenses package this is very appealing." First Derivatives Financial Engineer (Newry, Northern Ireland)
11. American Express
Company Rating: 4.2
"Genuinely empowered to try new things, to find your own path and speak your mind." American Express Vice President and Senior Counsel (London, England)
12. Grant Thornton UK LLP
Company Rating: 4.1
"I work with really great people both in my local offer and more widely across the firm. With the firm now under the leadership of Sacha Romanovitch I feel that I work in a really positive environment and can see how my work contributes to both helping the firm grow, as well as having a positive impact on the local economy around me. There are lots of opportunities available, great support and a commitment to your career development." Grant Thornton UK LLP Senior Business Development Executive (location n/a)
13. Google
Company Rating: 4.1
"Absolutely love working for google, been my dream for a young age. Food is great, people are great, the work is challenging and the pay is very good." Google Employee (location n/a)
14. Explore Learning
Company Rating: 4.1
"Training is great and you do learn a lot. The company is still learning and there can be lots of opportunities. Lots of freedom. Every day is different." Explore Learning Centre Director (Manchester, England)
15. Accenture
Company Rating: 4.1
"Huge diversity in roles and opportunities for the consulting business. I have literally traveled the world and experienced a varied work experience that I don't think is possible in other companies." Accenture Technology Consulting Senior Manager (London, England)
16. PageGroup
Company Rating 4.1
"Throughout my career, I have always felt challenged, rewarded and proud to work for a business like PageGroup. There are countless opportunities to progress into management, work overseas or earn serious money in a billing role, whilst being recognised for achievements and seniority." PageGroup Associate Director (London, England)
17. GlaxoSmithKline
Company Rating: 4.1
"Good solid FTSE100 company with a values based culture. Corp HQ with a good range of facilities from gym to restaurant." GlaxoSmithKline employee (location n/a)
18. BBC
Company Rating: 4.1
"The BBC is moving their digital business forward at an extremely fast pace. There are always interesting new projects to get involved with." BBC Senior Web Developer (London, England)
19. Centrica
Company Rating: 4.0
"The people are great to work with. Opportunity for anybody with the tenacity to chase it. Development opportunities." Centrica Senior Procurement Manager (Aldershot, England)
20. Nando's UK
Company Rating: 4.0
"Social, flexible, seasonal parties, daily food allowance, laid back, well above minimum wage, weekly pay for nandocas, quarterly bonus scheme – achievable, progression." Nando's UK Second Assistant Manager (Brighton, England)
21. Rackspace
Company Rating: 4.0
"People are great. Amazing work culture. Plenty of benefits. A lot of opportunities for progression and training has been the best I've seen." Rackspace Enterprise Business Development Consultant (Hayes, England)
22. Jaguar Land Rover
Company Rating: 4.0
"Almost unlimited training opportunities; good working atmosphere; dynamic company growth; company vehicle discounts." Jaguar Land Rover employee (Gaydon, England)
23. Diageo
Company Rating: 4.0
"Amazing brands; very bright people; collaborative culture; fun!!; invest in personal development; flexible working policy." Diageo Marketing Manager (London, England)
24. PwC
Company Rating: 4.0
"Supportive of all needs, especially progression. Amazing intro to the company, mature responsibilities early on, expecting to pass exams with independent work." PwC Flexible Associate (London, England)
25. GE
Company Rating: 4.0
"Working for GE is all about creating relationships, trusting and empowering each other, upholding integrity in everything you do, and being a part of something really big and positive that fuels today and creates the future of humanity." GE Ombuds & Open Reporting Leader (London, England)
26. Cisco Systems
Company Rating: 4.0
"Flexible working, work from home ethic, constant enhancements to benefits, innovative." Cisco Systems Programme Manager (London, England)
27. Microsoft
Company Rating: 4.0
"Diverse like you wouldn't believe, our leaders open to challenge, and Satya has helped give Microsoft a new lease of life. As a graduate hire, I have been given heaps of fantastic opportunities across the business to grow in capability and confidence but has, at the same time, kept me grounded and grateful for those opportunities." Microsoft Employee (location n/a)
28. Yell
Company Rating: 4.0
"Uncapped bonus (requires hard work, but well rewarded), Great team spirit (the amount of banter that goes on is brilliant), You won't get better working hours (Mon-Thur 8.30-5, Fri 8.30-2)." Yell Employee, (location n/a)
29. Harrods
Company Rating: 4.0
"Get training and support from the Learning & Development team. Constant recognition for sales associates. Great place to build a career. Excellent employee benefits and everyone is supportive and friendly." Harrods Assistant Manager (London, England)
30. BP
Company Rating: 4.0
"Among the best things about working for BP is its inclusive nature. I had two spells with the company and came back because I had such a great time working there in the first spell. BP gave me lots of opportunities to shine." BP Employee (Egham, England)
31. Deloitte
Company Rating: 4.0
"You get exposed to lots of other companies and can get a breadth of experience quite quickly. Looks good on your CV. Great attitude to remote working when not needed on client sites." Deloitte Audit Manager (Reading, England)
32. EY
Company Rating: 4.0
"Flexible working hours and encouraged to work from home if desired, the senior management team/partners are easily accessible (nobody has offices) and are generally ready to listen and take on-board feedback, everyone is very friendly, good work ethic, and the networks are active, interesting and fun." EY Consultant (London, England)
33. John Lewis
Company Rating: 4.0
"As every employee of the firm is considered a partner, everyone gets a say in how the business is run. This can be minute details to the christmas advert but all partner opinions are vitally important." John Lewis Stock Management Partner (London, England)
34. KPMG
Company Rating: 4.0
"Very friendly environment and everyone is willing to help you. Good opportunities to move abroad and global mobility is the best I have seen." KPMG Tax Consultant (London, England)
35. SAP
Company Rating: 4.0
"Great culture, awesome colleagues, decent benefits, decent compensation, good car policy, agile organisation, multi cultural, decent mid level managers." SAP Service Architect (London, England)
36. Waitrose
Company Rating: 3.9
"I love working at waitrose! Brill teamwork, even the managers get out stocking shelves etc. Fun place to work & great benefits." Waitrose Customer Service Assistant (location, n/a)
37. Shell
Company Rating: 3.9
"The company is a great place to work, and not always famous for that but usually employees are very happy and loyal. There is a big support for people's development, great benefits to move and relocate, most of the places offer great flexibility, meaning that you can work virtually, part time or sharing a role if needed and would be totally supported." Shell Project Manager (London, England)
38. Credit Suisse
Company Rating: 3.9
"Good working environment, positive culture, meaningful, non-contrived work. Learning opportunities (eg programming), senior management are interested in what graduates have to say." Credit Suisse Employee (location n/a)
39. J.P. Morgan
Company Rating: 3.9
"Enjoyable place of work, where people interact regardless of seniority. Wide organisation allows for easier job rotations and mobility. Encourages networking. Focus on training and development." J.P. Morgan Business Analyst (London, England)
40. easyJet
Company Rating: 3.9
"The people are passionate about the business and the business is passionate about its people. A massive pro is that even though it's a successful FTSE100 company, it's also fun!" easyJet Human Resources (Luton, England)
41. Apple
Company Rating: 3.9
"You will be treated in the most professional manner, everyone is happy to help you no matter what it is. Great benefits every month or sometimes every other week." Apple Specialist (Birmingham, England)
42. Rolls-Royce
Company Rating: 3.9
"The most talented bunch of engineers in the country. The only engineering company in the UK that is the world leader in the market." Rolls-Royce Assistant Chief Design Engineer (Derby, England)
43. Capgemini
Company Rating: 3.9
"Great place to work, lots of opportunity to develop at your pace, as fast or steady as you wish. Lots of challenges, everyday you will go home feeling you accomplished something. Everyone works as a team, we help each other. Benefits are good, you will be looked after, and supported in bad times (it happens in life)." Capgemini Employee (Telford, England)
44. UBS
Company Rating: 3.9
"Company values are part of the strong culture within the company, everyone works towards the common goal to succeed and make UBS great. UBS Apprentice (City of London)
45. J Sainsbury
Company Rating: 3.9
"The flexibility is great, shift changes aren't a problem and there is always overtime. Great pay for entry level compared to competition. Good perks. On some departments, you decide which jobs to do on shift and sense of freedom and responsibility for yourself. J Sainsbury's Clothing Assistant (location n/a)
46. Lush
Company Rating: 3.9
"Fantastic training. The best managers I've worked for. Friendly team. Incredible products. Brilliant employee benefits. Good wage." Lush Sales Employee (Portsmouth, England)
47. Schlumberger
Company Rating: 3.9
"The opportunities to learn and progress are good, to understand how a big corporate company works is great. Some good perks are meeting interesting people from different backgrounds from all over the world, travelling opportunities and perks such as visiting nice venues and going to events." Schlumberger Administrative Assistant (London, England)
48.Thomson Reuters
Company Rating: 3.9
"Good work life balance, great opportunities to move between jobs internationally. Great focus on customer satisfaction. Dynamic strategy in line with current market condition." Thomson Reuters Specialist FX/FI (London, England)
49. Starbucks
Company Rating: 3.9
"Free drinks throughout the day. National living wage for under 25's. Free bag of coffee/tea at the end of the week. Good tipping service. Really friendly staff. Good hours. Starbucks Barista (London, England)
50. Costa Coffee
Company Rating: 3.9
"Good discount – 50 percent on shift and 25 percent throughout Whitbread brands ie. Great savings on nights at Premier Inn. Feel Good points system. Free coffee on shift. Easy to progress in store (that's if you get along with management). Team is like a family and friendships are easy to make. Very laid back working environment (again dependent on management)." Costa Coffee Barista Maestro (Glasgow, Scotland)