January 16, 2014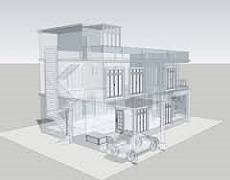 A distance learning version of a Certificate in BIM Implementation and Management, available online to professionals across the world is being offered by the University of Salford's School of the Built Environment.  The Certificate is designed to offer those working within the built environment the fundamental knowledge and understanding of BIM principles, terminologies, tools and techniques, including the technology, process and people needs for the successful adoption of BIM on construction projects. A range of new Continuous Professional Development programmes have been agreed with the Royal Institution of Chartered Surveyors (RICS), which includes a one-day Introduction to BIM Implementation and Management and a five-day Certificate in BIM Implementation and Management.
Dr Patricia Tzortzopoulos Fazenda, Director of the Design and Property Management Directorate and Programme Director said of the course: "There is a large body of knowledge and expertise in academia, and professional bodies such as RICS with their membership of working professionals who can benefit from that. With the growing popularity of web-based platforms, we as academics have at our disposal extremely potent tools that can be used for such knowledge transfer."
The MSc BIM and Integrated Design at the University's School of the Built Environment course builds on 12 months of work with RICS and is available for enrolment now through RICS' training and events portal. The first course will commence on 26 February 2014.
Pierpaolo Franco, RICS Global Director commented: "BIM has the potential to transform and bring significant changes on design, construction and operations over the lifecycle of projects for land, property and construction.
"Professionals can take advantage of this unique learning opportunity wherever they are in the world and whether they are part of a small or global business to position themselves for success at the transformational change that BIM presents."