April 17, 2019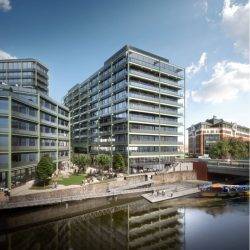 Bristol has the lowest vacancy rate for Grade A offices amongst the UK's leading Big 6 cities, reflecting strong demand combined with a shortage of high quality commercial space, according to new figures published by property consultants JLL.  Although the city and region's reputation for talent and innovation has so far countered the shortage of space, with inward investors citing access to a highly skilled, graduate workforce as one of the main reasons for relocation, JLL is warning that more needs to be done to ensure Bristol continues to attract investment.
Take-up of office space in Bristol reached 536,585 sq ft in 2018, broadly in line with the ten-year annual average of 538,540 sq ft, but with a slower period in the final quarter at 97,272 sq ft – the lowest quarterly volume for three years. Whereas 2018 was a record year for take-up across the UK's 'Big 6′ cities combined, up 9% on the previous year, according to the same report.
Overall vacancy rates in Bristol fell to 4.3% during the fourth quarter and to just 1% for Grade A space.
Much of this is down to a long-standing shortage of Grade A space in the city.  However major regeneration projects are now underway with several significant new developments under construction. These include AXA's Assembly in Temple Quarter, overlooking the city's Floating Harbour, which will offer 200,000 sq ft of office space in 2020 and Distillery, which will bring an additional 90,000 ft of flexible, adaptable, creative space to the city's business community.
Bristol has one of the most highly skilled populations in the country
This broadening of the central business district is crucial to Bristol's economic future, according to Ian Wills, office agency director in JLL's Bristol office, along with attracting and retaining talent:  "2018 saw record take up of commercial space across the UK's Big 6 cities. Look a little deeper and we see that, although positive, Bristol had one of the lowest take up rates for commercial space. But it also has one of the lowest vacancy rates – demonstrating that much of the issue has been down to lack of supply. This is at last now being addressed with some really exciting new developments on the horizon including Assembly and Distillery.
"Talent has certainly been the city's saving grace. And in order to remain competitive we must ensure we have the infrastructure and vision to continue to attract and retain that talent – in the face of stiff competition from other regional capitals in particular. Bristol has one of the most highly skilled populations in the country. To make sure that remains the case, we must address major barriers to growth and quality of life including public transport and our leisure and entertainment offer."
JLL's national report UK Office Market Outlook H2 2018 also points to an increase in city centre living and an expansion of central business districts, many of which – including Bristol – have been too constrained to accommodate major relocation requirements.
Mixed use developments
Kevin Hunt, planning and development director in JLL's Bristol office adds:  "Up until relatively recently, Bristol, like many regional cities, has seen significant 'depopulation' as residents moved to the suburbs seeking more space and a better quality of life. Activity in the city therefore became increasingly segregated – with people living, working and spending their leisure time in distinctly different areas.
"Now, that trend is fast reversing – with the arrival of really exciting mixed developments, offering a combination of homes, community and leisure facilities in and amongst business and commercial space.  This delicate balance is rarely achieved by the market alone. Effective urban regeneration and planning policies are crucial, and Bristol City Council has outlined its latest thinking in the Local Plan Review which is currently out to consultation.
"We are also seeing increasing numbers of students looking to remain in and around Bristol when they complete their studies.  And with the University's Temple Quarter Enterprise Campus now set to transform a key gateway into the city, this is a clear demonstration of how education, including the often-derided student housing sector, can be used to drive much-needed regeneration for existing communities as well as the university and its partners.
"What is crucial now is effective planning and further investment in the city centre, including the redevelopment of Temple Meads station, to match the multi-million pound station overhauls about to take place in Birmingham, Leeds and Glasgow."