March 7, 2019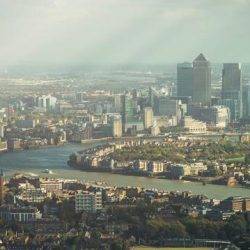 The UK is well placed to capture the lead as a global hub for real estate technology and innovation a report from the British Property Federation claims. But the country needs to develop a joined-up proptech strategy and roadmap to remain competitive globally, according to the report published jointly by the British Property Federation and Liquid Real Estate Innovation. The LIQUID Report: Leading the Digital Transformation of Global Real Estate claims that the UK is already a leader in terms of its capacity for innovation, data infrastructure, market transparency and quality of education, but falls behind other countries in terms of venture capital investment and technology infrastructure.
Dan Hughes, CEO of Liquid and author of the report, makes recommendations for industry and government, including the need for a new 'digital real estate forum' to connect the myriad proptech initiatives that exist in real estate, the tech sector and across government departments.
The report also calls for action to drive greater investment into research and development, and for the real estate sector to put digitalisation at the heart of its business strategies and to build digital skills into all staff training.
Dan Hughes said: "To enable the successful digital transformation of a country's real estate, and in turn to allow this to become an economy's global differentiator, it is essential that the right environment and infrastructure exist. The UK is well-placed in comparison to other countries, but there is still much to do. To capture the lead in the space the sector must act now, focus on outcomes, collaborate and play to its strengths."
Responding to the research, Melanie Leech, CEO of the British Property Federation, said: "The BPF has an important role to play as a convener across the industry providing a single voice to work with government, to join the dots between the many initiatives already underway bringing digital transformation to property, and at a grass roots level working with businesses to learn from each other, and from other sectors, to embed best practice and to help them to navigate the new digital landscape."
Key recommendations:
Foundations for the future
UK government to publish a roadmap of real estate-relevant digitalisation plans.
A cross-sector coalition to map built environment data standards, to research priority use cases and ways to improve data sharing across the whole lifecycle.
Real estate companies to build digital skills into all staff training and ensure digital transformation feeds directly into business plans.
A joined-up government
A minister-led, digital real estate forum to be created.
Creation of a digital government interface or hub for people to discover and access government activity relating to the digitalisation of real estate.
UK government to actively promote digital real estate on a world stage.
Innovation and adoption
The UK real estate sector to create a collaborative real estate R&D hub or lab.
The UK government to launch a real estate catapult.
The government to target R&D tax credits and InnovateUK competitions towards real estate. Furthermore, it should ensure that technology to benefit a building over its life-span is considered within the planning process.
The real estate sector to ensure that data and technology is clearly articulated as part of the decision-making process and therefore more obviously included within the valuation of property.
The LIQUID Report was commissioned by BPF as part of its technology and innovation programme, which launched in September 2018 with a remit to explore how to modernise the sector and bridge the UK real estate productivity gap. It follows Lost in Translation: how can real estate make the most of the PropTech revolution?, produced by Future Cities Catapult.