April 20, 2021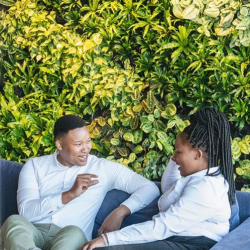 Just as the pandemic has forced many to re-think their relationship to the office, developers and building owners have been forced to reassess the service they offer to meet the altered needs of occupiers, according to research by JLL.
JLL's new Creating Places People Want To Be report provides guidance for developers and owners on the requirements needed to meet the post-pandemic demand of occupiers. With health and wellness becoming a central focus for any occupier, it is essential for owners to benchmark the key facets of their spaces and operations by assessing air quality, lighting, acoustics, biophilic design and activity levels.
As part of meeting new health and wellness standards, owners and developers have a few accreditations at their disposal to entice occupiers:
• Well: The world's first building standard focused exclusively on human health and wellness. This includes strategies that aim to advance health by setting performance standards for design interventions, operational protocols and policies.
• Reset: A performance-based air quality standard for commercial buildings. An ongoing performance measurement system which will ensure buildings are consistently adhering to strict air quality standards.
"Those who address health and wellbeing now will reap the benefits"
The research claims optimisation of the built environment to increase health and wellness will be the key differentiator for occupiers as people return to the office, and ensuring your building is future-proofed with the required technology to achieve these demands is essential. Technology updates such as those to smart building systems and automation, occupational and density sensors and facility management workflow tools will all be critical to the post-pandemic workplace, according to JLL.
Katie Kopec, Lead Director, Strategic Development Consulting at JLL, said: "The acceleration of 'green health' and the appreciation of our environment being a key indicator of mental health and happiness has driven a real imperative to ensure we have a softer, kinder recovery to a new normal. Those who address health and wellbeing now will reap the benefits of not only creating great places but also delivering the best return financially."