July 26, 2023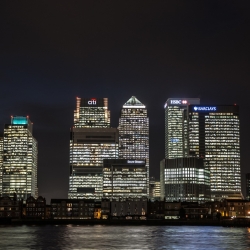 The first casualties of the already cliched injunction to make offices worth the commute were always going to be the world's most inaccessible business districts. In the UK the most high profile of these is Canary Wharf, 52 hectares of former wasteland in East London that became a financial powerhouse. Part of the regeneration of the area that began in the 1980s, it became synonymous with the era and with Margaret Thatcher and her reform of the financial services sector. This came to pass even though its most iconic structure One Canada Square was only completed in 1990, shortly after she had left office and shortly before its developer filed for bankruptcy.
Already the symbol of a bygone era, it runs the risk of becoming a relic. In late June, perhaps its most high-profile occupant, HSBC, announced it was to vacate the building that had been emblazoned with its logo for twenty-odd years.
The banking giant is moving out of the 45-storey tower at 8 Canada Square and by 2027 will occupy a smaller space in the City of London. The new office will be about half the size of its iconic tower and is the former home of BT near St Paul's Cathedral.
The move is part of wider programme of real estate pruning first announced in 2021 that will involve the closure of 20 of its 50 offices in the UK, including the bank's existing office in the City. Last year, the firm announced it was scaling back the use of space at the 8 Canada Square to save on energy and other costs.
Even Canary Wharf stalwarts like Barclays are scaling back on their space in the district or are creating so-called grey space by subletting it to short-term tenants. Meanwhile other tenants such as law firm Clifford Chance have also announced their plans to relocate to the City.
In different times, this may have been seen as the normal turnover of tenants. But that would be a mistake given all that has happened in recent years…
…continue reading the full feature from IN Magazine