February 24, 2020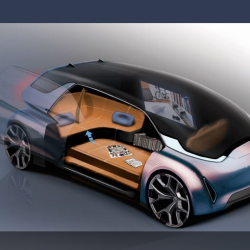 By 2050, cars will be completely driverless, electric and kitted out for hosting business meetings on the go, a report has claimed. Instead of a driving seat, there will be seats facing inwards and a screen for delivering presentations and making conference calls. The predictions in Auto Trader's Car of the Future report are based on the forecasts of futurologist Tom Cheesewright and a survey of more than 2000 drivers to identify features that would be popular with consumers.
The report says the car of 2050 has Wi-Fi capabilities (a feature that 3 in 10 drivers said they would want access to) and a built-in mattress (which a quarter of motorists wanted). There will also be 360-degree windows that extend over the roof in one large bubble, offering enough head room for professionals to move around freely during transit. The windows will have black-out functionality that can be activated with a quick tap to remove glare on the TV screen. The spacious interior will provide the ideal environment for car-sharing, the report says, to help ease rush-hour congestion.
Auto Trader's Rory Reid commented: "The development of autonomous vehicles could completely transform the role that cars play in the business world, enabling motorists to reclaim the commute and fully make use of their time en-route to meetings and events. We can see the car of 2050 becoming an extension of the office, creating new levels of efficiency within the workplace."
Featuring 'digital paint', the car of the future allows professionals to alter the colour of their vehicle to match their company's brand colours.
Customisable features
Featuring 'digital paint', the car of the future is predicted to allow passengers to change the colour and style of the car via an app, while professionals can alter the colour of their vehicle to match their company's brand colours. According to the report, advances in technology suggest this feature could be widely available by 2040. Catering to the 10 percent of drivers who said they want cars to be fully voice operated in future, the car will welcome passengers with a friendly AI device that helps them set their preferred driving speed and style.
Futurologist Tom Cheesewright said: "Future technologies will give designers free reign to create more space and comfort, so that we can get on with our lives while an AI takes care of the driving. While our cars won't be flying any time soon, we can all benefit from cleaner, quieter, safer roads. In just twenty years, the age of the combustion engine will be well and truly over.