December 1, 2013
If you think you know what's going on in Detroit based on the stories of the city's financial woes and pictures of some crumbling buildings, it is worth a visit to the offices of dPOP, the two month old design firm with origins in creating the award-winning office spaces for Quicken Loans and its family of companies.The design firm's space in the basement of a long defunct Detroit bank embodies what being from the Motor City is all about — being tough, but talented; gritty yet glamorous; fun with a funky twist.They design like they don't care what you think — and that might just be true. Their own offices and those they created for the 11,000 workers that were moved from divergent suburban sites to the center of Detroit are bold, bright and fun. Most of all fun. But the result is spectacular.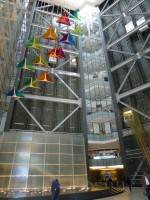 dPOP's headquarters in the basement of a defunct Detroit bank might be the coolest office in the world, not because it has scooters, slushy machines and Cap'n Crunch cereal for its employees, but because the employees actually seem like they are having such a blast that office frippery like this does not seem at all contrived.
While dPOP started as a blend of the purchasing and facilities team for Quicken Loans and its companies, it has spun off and is serving any customer that want to find its culture and have that reflected in its buildings and furnishings. Not everyone is going to follow dPOP's lead and have a theme that uses a bank vault as a conference room, break room that looks like the inside of a dripping Hersey Kiss and a full-sized horse lamp with rainbow leg warmers (though maybe they should), but Chief Executive Officer Melissa Price said the design firm is committed to helping its clients find out who they are and represent that in their offices.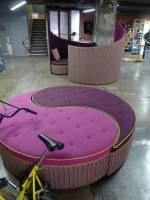 "When you walk through our space, there is no vagueness about what our company is," she said, noting the group's Quicken Loans work, which is found at a number of buildings in central downtown Detroit and includes more than 11,000 workers. "When you look at our spaces, you can see that our work is intense and our play is intense. If that excites you, this is a great company to work for. And when you are here, you know what kind of company you work for. You don't always get that with a company."
The mad scientist behind dPOP's headquarters in the basement of the Chrysler House building is Andrew Lemanek. The Chrysler House building started its life as the Dime Bank in 1910, but like many buildings in Detroit, fell on hard times before it was reclaimed by Bedrock, the real estate development company of Dan Gilbert, the businessman who is chairman and founder of Rock Financial and Quicken Loans (and owner of the NBA Cleveland Cavaliers). While others shunned Detroit, Bedrock has been bullish on the city, snapping up properties around and breathing new life into them.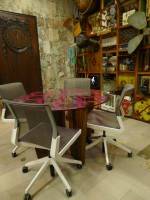 The former Dime Bank is one of those and dPOP occupies the basement of the building. When dPOP took possession of the space in February, Lemanek called the lower level "a repository of shit" — a collecting point for all the building's flotsam for 100 years. Demolition on the space began in March and the space opened to its 40 or so workers in late August. While that might sound like an ambitious timeline for a space that was so full of stuff that you couldn't see 10 feet in front of you, Lemanek said it took "a really long time for one of our projects."
At first glance, the dPOP space appears a bit unfinished. The concrete covering the huge columns in the space was left in its semi-crumbling state, complete with spray paint and exposed cement. Lemanek calls it "intentional imperfection." It is meant to look industrial. Bookshelves that hold furniture and finishing catalogs are built from black iron pipes and wood reclaimed from some of Detroit's homes that are being demolished.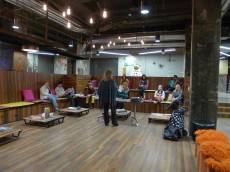 Visitors enter dPOP through a stairway that leads to a metal sally port. A dPOP sign (intentionally) flickers on the wall and visitors must buzz in to enter and give the password, which is Tweeted out each morning to the company's followers on the social network (the password was "meow" on the day I visited).
Once inside, visitors are greeted with a shock of color — vivid purple and pink custom furniture, yellow scooters and bright lights. "I wanted the door to open up and feel like you were walking into Willy Wonka," Lemanek said.
There is no true reception desk, though 20-something creatives are everywhere, working in casual lounge settings with Apple computers on their laps. A focal point of the front of the office is an ornate spiral staircase that leads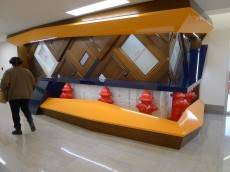 nowhere. Lemanek said he found it in a pile of junk in the basement and liked the way it looked. Plus, he said, incomplete stairways are said to attract wandering spirits.
The most inspiring furniture in the office is custom-made, including a "sit and spin" bench and table that actually works, tables inlayed with the bank's ornate safety deposit box doors, yin-yang shaped benches that can be pulled apart and an auditorium built from reused Detroit wood. Tables in the auditorium are made from pallets from the Ford Model T factory. The auditorium is used for "design tastings" — where industry reps show off new products to dPOP's designers. The office also has a blend of Herman Miller Embody chairs (more about those later), height adjustable desks and Allsteel Clarity chairs in a few casual settings. The front of the office has two "featured" products that dPOP tests out for durability and design — one furniture piece and usually one textile or carpet sample.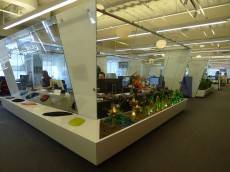 There are two vaults in the space. The vaults were installed in the basement in 1910, the building constructed around them. One vault is stark white, a nod to the movie "2001: A Space Odyssey," though its plainness has a more practical purpose. "When we are meeting with customers, we don't want them distracted by our space," Lemanek said. The walls are white with a jigsaw pattern and three round white writable surfaces are on each side of the room. There is a white table surrounded by clear acrylic chairs. The other vault held the safe deposit boxes and is used as a more formal conference room with classic wood furniture and dark leather sofas. Both conference rooms are impressive, but the vault doors, several feet thick and weighing thousands of pounds each, steal the show. They are a marvel of steel, brass and glass and a testament to Detroit's rich manufacturing history.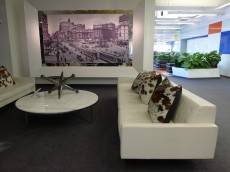 "This space is very much about us," Lemanek said. "This is our culture here, 100 percent. We believe the future of the office is not what you are seeing in other places now. The current generation is deathly afraid of working in a cubicle. We are embracing our role to help make the experience of the workplace fit who (our clients) are."
Before dPOP popped and went out on its own, its design team cut its teeth on the massive task involved in moving 11,000 workers into downtown Detroit, most in spaces that were abandoned or derelict. Price said she and her team gained much experience from the process. While the Quicken Loan spaces aren't nearly as whimsical as dPOP's, the playfulness of the company certainly shows through, from the accounting team to the IT department. Quicken Loan employees are spread throughout the downtown area.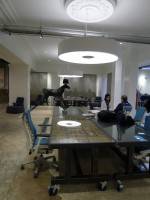 Quicken Loans' fulfillment team is found in the building next to dPOP, the former Federal Reserve bank, which is also part of Chrysler House. The dPOP designers inspiration for the fulfillment team came from coins, the sheen found when oil mixes with water and fish scales. It is like walking into a Super Mario Brothers video game with bright, neon colors everywhere. The shock of color helps in a space that is underground, Lemanek said. "This place was completely nothing," he said. "But when you are working as a designer in Detroit, it is great because you have this blank palette to work with. To the city, any improvement is great."
Quicken Loans' call center is spread over several floors of the Chase Building. There are 1,700 Quicken Loans employees in the Chase Building alone and it represents the largest installation of Herman Miller Embody chairs anywhere. "We have thousands of those chairs in this building and we've had three complaints about them building-wide," Lemanek said. "They are awesome."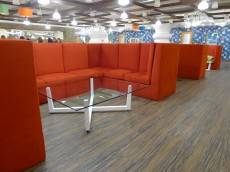 The dPOP team also worked closely with DIRTT Environmental Solutions to create the conference rooms and private offices at the Chase Building and in several other Quicken Loans locations in Detroit. DIRTT's Joe FitzGerald worked on the collaboration between the companies, which began with a 2011 dPOP visit to Calgary. "Working with (architecture firm) Rosetti, we knew the design would be inspiring and challenging as well," he said. "We helped (Quicken Loans) come up with custom colors for the (movable) walls that are an exact match to the other colors in the space. For these guys, flexibility is the reason we are here."
Indeed, unlike most movable walls, these are actually moving. Because of Quicken Loans' growth, the design team needs to be able to pull out the walls and replace them with workstations. Unlike some movable walls, said Quicken Loans Facilities Site Leader Tedd Tice, they are reusing the DIRTT walls. "It is a great product because we can change it in and out. It is versatile. Overnight, I could blow this office out and move it somewhere else in the building," he said.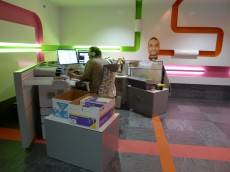 The walls can be used in other buildings as well. Quicken Loans also occupies the fifth through 18th floors of the First National Building in downtown Detroit. DIRTT walls are used throughout the building, which houses Quicken's Title Source business. Each of the floors is themed. For example, one is "fire" and has a number of design references to fire. Another is water with a bubbling sculpture found in its main lobby. Color is used on each floor to signify the design theme. It is a bright, colorful space — and a major change for employees who worked in traditional offices in the suburbs. "All of them worked in gray cubicles," Tice said. "The carpet was tan. It was just a drab office. It is so much more bright and inviting now."
The hub of Quicken Loans in Detroit is found in the Compuware Building, one of the first to be built in the revitalized downtown area. It is home to Bedrock and the executive team. The board room has a large scale model of downtown Detroit so executives can strategize how to expand their reach in the market. A usable half basketball court painted in Cleveland Cavaliers colors is available for the team in this area to use.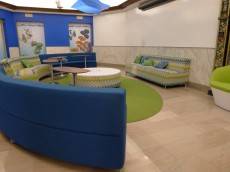 If a visitor was just looking at the Quicken Loans updates in Detroit, they might never known the problems the city faces. The new offices are attracting new restaurants and retailers as well. But stray a few blocks away from the corporate core and it is easy to see the blight that still plagues Detroit. No doubt, it is getting better, but Detroit has a long way to go.
Attitude is everything. If Detroit is a dying city, you certainly wouldn't know it by the mood found in the complex of buildings that house Quicken Loans and its affiliates. Many of the downtown buildings have outdoor speakers connected to an app called Rockbot, a communal jukebox that allows people with the app to chose music that plays throughout the downtown area. A large-scale chess set, its pieces three feet tall, is available for the impromptu outdoor match. And Campus Martius Park, which forms the central hub of all the Quicken Loans activity, has a beach bar in the summer and ice skating in the winter.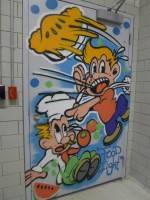 "Having fun in the process is so important," Price said. "Everyone wants to have fun and we have a fun culture. It is important to know who you are."
So the city that gave the whole world the automobile but lost its own way is reinventing itself, a blank canvas where design is taking hold. It remains to be seen whether this Motor City momentum will continue. Good times for the automobile industry in Detroit make those who live there forgetful about the downturns. But if dPOP and Quicken Loans is any indication of the will to push forward in this much maligned city, Detroit's future is bright.
______________________________________________

Rob Kirkbride is the senior reporter and associate editor at Monday Morning Quarterback, the market-leading source of strategic information for the leaders of commercial furnishings businesses in the US and around the world. Founded in 1979 to create and publish a national newsletter, the company has evolved into the leading source of insider perspective on workplace design and construction.