August 19, 2013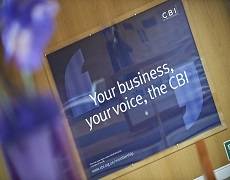 A pick-up in confidence across a broad range of sectors, including services and construction and a better than expected second quarter has led the CBI to raise its growth forecasts, with GDP growth of 1.2 per cent predicted in 2013, up from 1.0 per cent in the May forecast. In 2014, the business group expects the economy to gather pace, forecasting 2.3 per cent GDP growth, up from 2.0 per cent in May. However, unemployment rates look set to stick at around 7.8 per cent. John Cridland, CBI Director-General said: "The economy has started to gain momentum and confidence is picking up, but it's still early days. We need to see a full-blown rebalancing of our economy, with stronger business investment and trade before we can call a sustainable recovery."
He added: "We hope that will begin to emerge next year, as the Eurozone starts growing again.The Government needs to get behind talented UK businesses to help them break into new export markets and sell great British products and services around the globe."
Business investment and exports are forecast to strengthen as the global economy picks up and the Eurozone returns to growth, confidence rises, and credit conditions continue to improve. Business investment is forecast to grow by 7.3 per cent in 2014 from -2.8 per cent in 2013.
Ecoing the ONS statistics published last week, the CBI forecasts that the unemployment rate will remain at 7.8 per cent in 2013, but will fall slightly to 7.6 per cent in 2014, with unemployment expected to be relatively sticky over the medium-term, as hours worked increase and productivity begins to recover. Consequently, the CBI expects interest rates to remain on hold beyond 2014.
Stephen Gifford, CBI Director of Economics, said: "Increased confidence, improved credit conditions and a pick-up in disposable income should underpin consumer spending in the UK through 2014.
"As the Eurozone returns to growth and global momentum continues to build we should see a gradual increase in business investment and UK trade."