January 15, 2015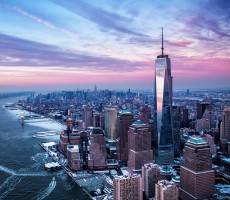 The world's taste for skyscrapers continues unabated according to a new report from the Council on Tall Buildings and Urban Habitat. While the numbers of new tall buildings in Europe, the US and Australia remains relatively subdued, those in the Middle East and Asia continue to grow, making up the overwhelming majority of the 97 new skyscrapers completed in 2014, a new record. The report also highlights large differences in the scale of buildings across the world. While Europe's largest completed tall building the Leadenhall Building (or Cheesegrater) at 224m was only marginally above the cut-off height of 200m, China completed no fewer than 58, the tallest of which was the mixed-use Wharf Times building in Wuxi at 339m.
The report also highlights how the use of skyscrapers has changed in recent years. During each of the surveyed periods of the 20th Century anywhere the vast majority of new build 200m plus tall buildings were solely for office use. As recently as 2000, 85 percent of new builds were dedicated office buildings. By 2010 that had fallen to 59 percent and in 2014 was just 39 percent, with a marked shift to mixed-use (36 percent), residential (16 percent) and hotel (9 percent).
The US could at least boast the tallest and most poignant building completed during the year, the 541m One World Trade Center in New York, one of 11 suppertall buildings defined as those of at least 300m in height.
The report claims that the predominance of China is not solely down to its growth as an economy but the structural changes in population as 250 million people have relocated from the countryside to cities, including many of the newly constructed urban areas.
The top 10 tallest completions in 2014 were:
1   One World Trade Center, New York City (541m)
2   World Trade Center Abu Dhabi – The Residences, United Arab Emirates (381m)
3   The Wharf Times Square 1, Wuxi, China (339m)
4   Wuxi Suning Plaza 1, Wuxi, China (328m)
5   Moi Center Tower A, Shenyang, China (311m)
6   Burj Rafal, Riyadh, Saudi Arabia (308m)
7   One57, New York City (306m)
8   Wuxi Mayoe City – Marriott Hotel, Wuxi, China (304m)
9   Heung Kong Tower, Shenzhen, China (303m)
10 Torre Costanera, Santiago, Chile (300m)