February 24, 2014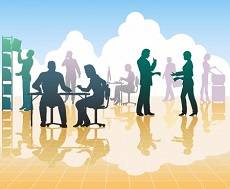 The CIPD has urged the Chancellor to focus on delivering a "Budget for Productivity" when he delivers his 2014 Budget on 19 March. The employment body has today put forward a package of proposals which call for labour market inclusion and the development of more productive, inclusive, and engaging workplaces. It is calling for a fundamental review of UK skills policy, together with a new focus on the workplace, the nature of jobs for the future, and how skills are being utilised. This, the CIPD argues, is critical if the necessary leap in productivity is to be delivered to boost real wages. A recent CIPD report  found that already weak UK productivity has worsened as a result of a slow-down in job turnover during the recession and an extraordinary run of hiring that has preceded the recent return to growth.
Peter Cheese, Chief Executive at the CIPD, said: "The UK economy has finally started to grow solidly again but the deepest recession for decades has exposed critical underlying issues in our competitiveness and utilisation of skills.
"It's important that government, key policy makers and businesses come together to work on improving the UK's productivity, where poor relative performance predates this financial crisis.
"Productivity growth is vital to our international competitiveness, but also must underpin growth in real wages. Effective people management and development is essential in supporting productivity, effective skills utilisation, innovation and growth."
The CIPD is also calling on government:
To help young people make the transition between education and work by allocating £50 million to the National Careers Service (NCS) to boost their work with schools and to improve the labour market prospects of the UK's young people by helping to bridge the gap between education and work.
To ensure Universal Credit works for the benefit of employers, employees and jobseekers by producing targeted communications aimed at jobseekers to increase their understanding of the new system and to drive positive engagement, and to review whether an increase in the employer National Insurance Contributions (NICs) threshold from £148 to £220 a week or more could encourage employers to increase the hours of some existing staff.
Said Cheese: "Government and businesses need to work together to ensure we don't create a generation of wasted talent, with high systemic youth unemployment and under-utilisation of skills. We need to promote labour market inclusion and the development of productive, inclusive, and engaging workplaces, to create a stronger and more sustained demand for employment at all levels.
"Just focusing on the supply of skills is not enough. The need to pull these agendas together for the long term benefit of the UK economy is one reason why the CIPD is calling for the establishment of a Workplace Commission.
"This would be an ongoing forum bringing together key stakeholders from government and the business community alongside employees and their representatives, to ensure workplace issues are given the coherent and integrated attention they deserve in a labour market where skills supply and demand are interlinked.
"Such a forum would help shape policy and promote practices for improving productivity and work opportunities and contribute to better work and working lives for all."
Recent research from the Office for National Statistics reveals that skills utilisation lies at the core of the UK's productivity problem. Labour productivity fell sharply during 2008 – 09 and is still nearly 4 per cent below its pre-recession level. And on an output per worker basis, UK productivity was 19 percentage points below the average for the rest of G7 in 2012.
Peter Cheese will be a key speaker at the BIFM Think FM conference on 13 May. Click here for more information.