October 9, 2015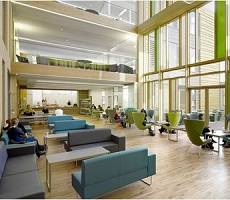 Keynsham Civic Centre & One Stop Shop in Keynsham, near Bath, has been named the Best of the Best workplace in the country at the British Council for Offices' (BCO) annual Awards. The office was recognised as the Best Corporate Workplace in the UK, topping a list of six other award winners recognised for excellence in office space. The building provides an environmentally sustainable, low maintenance and flexible workspace, whilst acting as a catalyst for the regeneration of the town. As a workplace for the local council, the judges praised the building's impressive use of natural light to create an 'uplifting workspace' as well as the design of the office floors which lend themselves toward flexibility and encourage collaborative working. The team behind the building was also commended for conducting a thorough and impressive stakeholder engagement process, from the inception of the project through to completion.
The judges felt the Civic Centre also served the local community well, as half of the building is given over to public realm, as well as providing valuable retail space to stimulate the revival of the town's High Street.
The six other award winners recognised for excellence in office space were:
Commercial Workplace: One St Peter's Square, Manchester
'Best of the Best' & Corporate Workplace: Keynsham Civic Centre and One Stop Shop, Market Walk, Keynsham
Fit Out of Workplace: PwC Edinburgh [pictured], Atria One, 144 Morrison Street, Edinburgh
Project up to 2,000m2: The Albus, 110 Brock Street, Glasgow
Refurbished/Recycled Workplace: 1 & 2 Stephen Street, London
Innovation: Living Planet Centre [pictured]: WWF-UK Headquarters, Rufford House, Brewery Road, Woking
Test of Time: The Angel Building, 407 St John Street, London
Peter Crowther, Property Director at Bruntwood Estates and BCO National Awards Chairman, commented: "This is an inspirational development that improves working practices and offers much to the local community in terms of its public facilities and its form within the urban landscape.
"Whereas the scale and formality of a number of civic buildings can often serve to drive away the people they are designed to accommodate, this development provides a clear, accessible and inviting beacon of civic pride. To achieve all of this whilst also delivering such a low carbon building is remarkable."
Richard Kauntze, Chief Executive of the BCO, said: "The judges were unanimous in the opinion that the Keynsham Civic Centre & One Stop Shop is an excellent building that offers much to the local community.
"At a time where office space is in high demand, creating a dynamic workplace that delivers to both those using the space, and the community it forms part of, is more important than ever.
He continued: "This year's winners should all be congratulated on creating workplaces that can inspire the industry to raise the bar once again."