January 11, 2022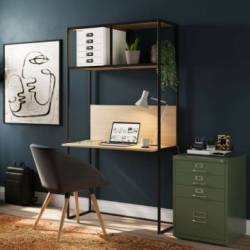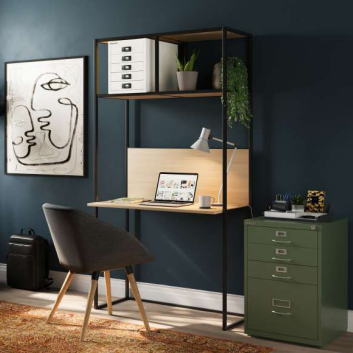 Bisley's new Creative Director Jeanine Goddard identifies forthcoming interiors trends elating to the three Cs of colour, comfort, and circularity.
"The emerging trends that we're seeing around work interiors – whether office or home-based – relate to some seismic shifts in the way we view the world of work. They also stem from a stepping up of pace in terms of the sense of environmental urgency," says Goddard.
Colour: You're on mute
Goddard forecasts a sea change in perceptions of how colour can be used in work settings, with a more strategic emphasis: "Increasingly, it will all be about the palette, and working in a considered way with hues that may not in themselves be super saturated but can be brought together in different ways to make statements, whether nuanced or bold."
"At Bisley we're working a lot with our Palest Pink and juxtaposing that with complementary shades of ethereal lilac and the earthy tones of terracotta – in some ways all neutrals with grey hues. It's a flexible palette; the overall effect is quite tranquil and light, but the level of seriousness or playfulness can easily be dialled up or down to suit different settings and personalities – individual and corporate.
"I'd say the resonance of this slightly otherworldly, somewhat muted palette is a lot to do with a careful re-navigation between digital and analogue worlds, as we return to offices and increasingly switch back from screens to real life. I see similar resonances in lilac to those examples of gaming cited as an inspiration for 'Very Peri', Pantone's 2022 colour of the year. It's a colour from the digital realm that's also found in nature, and there's a comfort in knowing that it occupies a similar space to us as we move between the two.
"Palettes that are innately complementary to green like this one are coming to the fore because we're seeing a lot more indoor biophilia now, both at home and work. It's also a reflection of the increasing cross-over with the spheres of textiles and fashion that we're seeing in the workplace generally."
Comfort: Offices are a 'home from home'
As part of a wholesale shift in perceptions of what working means to us today, Goddard is noticing a lot more emphasis on comfort in work settings.
"What we're seeing is a divergence of the aesthetics of workplaces and living spaces, with a more nuanced and blended approach to both. In many ways this is a response to the need for people to be able to move between offices and work from home spaces with minimal disruption."
"Since the pandemic there's much greater awareness of the importance of wellbeing – physical and emotional. The pandemic also sensitised a lot of people to their environments, and we're all more conscious of the importance of nature, fresh air and natural light in our environments."
This is translating into a softening of work spaces, says Goddard, with texture, natural materials, colour and biophilia: "All of these things make people feel more comfortable, emotionally and physically. Soft furnishings and textures have a very positive impact on acoustics, which can be problematic in open plan spaces."
She attributes this trend partly to designers being briefed to create the kind of environments capable of pulling people back to the office – more plants, more informal zones for high-quality conversation, more small group settings. The 2022 Pinterest Predicts report cites searches for biophilic office design increasing threefold, with people becoming much more engaged with the natural world now.
"We're seeing much less focus on the office as a rigid space for heads-down work, and much more emphasis on softer, more blended spaces for more fluid collaboration and connection – spaces that really seed the character and values of a company to employees and visitors with colour, texture, the flowing movement of people, and nature."
"In both offices and home working spaces, the idea that there doesn't have to be a rigid, finite separation between work and play, work and wellbeing is here to stay", she concludes.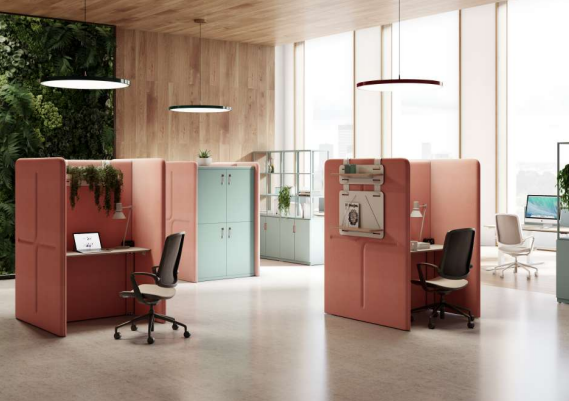 Circularity: Built to last
As circular economy principles become more widely embedded, Goddard is witnessing a positive impact on people's decision making, with more mindful consumption and higher aspirations for longevity.
"As a society we're definitely shifting away from throwaway culture and built-in obsolescence," she says. "At one time there was an attitude to the design of workplace interiors that viewed them almost as theatre sets, temporary backdrops to work to be changed every few years."
"Now, both individuals and corporates are much more attuned to the principles of legacy value, re-use and retrofit. People turn to Bisley for enduring style, for good bones and classic silhouettes, which they know have the capability to be transformed or customised again and again. Build quality is really coming into the limelight.
"In the corporate sector I'd say a key driver is the Environmental and Social Governance agenda because it throws measurement into the spotlight, which affects decisions right down to the furnishings. People are thinking much more in terms of long-term value and life-cycle costings.
"It's no longer the case that the depreciation of assets formulas of accountants are seen as the end of the road – there are bigger issues at stake and longevity is now a core value."