February 27, 2018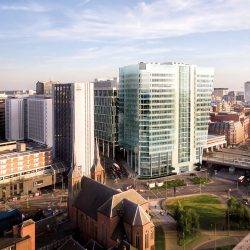 City centre take up reached 1,005,000 sq ft in Birmingham last year, 51 percent above the 10-year average of 666,000 sq ft which marked a record year, according to Savills Research. Growth was driven in part by the Government Property Unit (GPU) deal, as public services accounted for 27 percent of take-up in the city centre last year, including the 237,000 sq ft pre-let at Arena Central. Birmingham's boom was also boasted by take-up from serviced office providers that reached 208,000 sq ft during 2017, the highest level on record and this accounted for 21 percent of the total take-up, more than any other regional city. There now remains a shortage of Prime Grade A space in Birmingham city centre following a number of large lettings. Prime Grade A space now stands at only 169,000 sq ft, enough for only six months of take-up at average levels. Major construction project, Three Snowhill won't complete until the second quarter of next year, when it will deliver 420,000 sq ft of much needed Grade A office space on its completion. Until then, competition among occupiers will further intensify for Grade A space.
The largest deal in the fourth quarter of last year was Regus signing for 76,000 sq ft at refurbished The Crossway, Great Charles Street. Regus also signed for 33,000 sq ft at The Lewis Building during the final quarter.
With sustained office demand, Savills expect take-up to reach 825,000 sq ft in the city centre during 2018 and forecasts top rents to reach £34 per sq ft by end 2018.
Office investment in Birmingham reached £462 million during 2017, 16 percent above the previous 10-year annual average (see Graph 4). Overseas investment acquired £288 million and accounted for 62 percent of the total investment last year. This was largely driven by the £265 million acquisition of 3,4,5,6 & 9 Brindleyplace during the first quarter.
Prime office yields remain at 4.75 percent, in line with the prime regional average. In an income driven environment, prime yields remain attractive against West End (3.25 percent) and City offices (4 percent). Savills expect yields to hold firm throughout the first half of 2018 as overseas investors become increasingly open to looking outside London to the regional cities.