August 23, 2013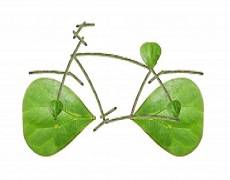 The treadmill desk is designed to help workers fight the flab, now those attending business meetings and conferences at one hotel can keep fit while also helping to combat global warming. A "Pedal Power" trial at Qhotels' Forest Pines Hotel and Golf Resort near Lincolnshire will require users to continuously pedal with a bicycle generator to convert 100 watts of energy, which powers enough electricity to charge a laptop – the equivalent to a gentle race up a hill. The initiative comes following a recent survey of QHotels' delegates which found that 55 per cent deem environmental credentials important. The pedal power generator was deemed a simple and fun way to power a conference presentation – though whether those forced to do the cycling will agree is debatable.
Sustainable energy is a key focus for the hotel group, and this new package is one of many steps being taken to lower energy consumption and help QHotels meet its annual energy reduction target. The bicycle generator operates in a similar way to a wind turbine with the magnetic force passing through coils of wire to generate power.
QHotels' Director of Property, Philip King said: "At QHotels we are committed to saving energy and providing an environmentally-friendly setting for guests and delegates. We have listened to delegates' feedback and, given that environmental issues are high on the agenda for our delegates, we ensure we try new initiatives and find ways to support their aims as well as our own."
Previous eco initiatives include the installation last year of electric car charging posts at six hotels and the hotel group signed up to WRAP's Hospitality and Food Service Agreement – aiming to cut food and associated packaging waste throughout the UK. In 2011 the brand was also proud to be awarded the AA Eco Hotel Group accolade.