June 24, 2015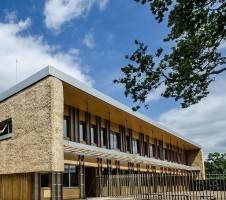 Morgan Sindall has completed construction of what is claimed to be the UK's greenest commercial building, the Enterprise Centre at the University of East Anglia. The building boasts record-breaking sustainability credentials including both BREEAM Outstanding and Passivhaus accreditations. It has been designed to maximise the use of low embodied carbon materials over a projected 100-year life span. The building incorporates an innovation lab, a 300-seat lecture theatre, flexible workspaces, teaching and learning facilities, as well as business 'hatcheries' and incubator units for small businesses and start-ups in the low carbon sector. The developers believe that by placing like-minded academic and private sector occupiers side by side, the centre will foster innovation, stimulate smarter ways of working, promote industry standards and create new sustainable supply chains.
The building incorporates a number of what are claimed as world-first features including prefabricated wall claddings made from straw thatch panel cassettes which are sourced locally to create a visually striking, innovative and sustainable building envelope. Other structural wooden elements of the building are sourced from local sustainable forests.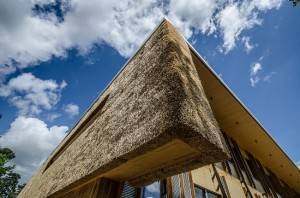 Overall the embodied carbon of the building has been calculated to be 440kg/CO2/sqm across the 100-year life cycle. This equates to a quarter of the lifetime emissions of a conventionally constructed university building of equal size and scale.  Underpinning all this has been a commitment by the whole team to create solutions that have been complementary to the rigorous requirements of Passivhaus as well as BREEAM outstanding.
Construction of the £11.6m building started in 2013, with support from UEA, the European Regional Development Fund, BBSRC, New Anglia Local Enterprise Partnership and the Buildings Research Establishment. The project was managed by Adapt in close partnership with Morgan Sindall and architects Architype.
Key features of The Enterprise Centre:
Aims to have less than a quarter of embodied carbon impact of a regular building
Incorporates 98 percent recycled steel for the reinforced concrete of the foundation
Uses an innovative 'cassette technique' to thatch the building's walls
Has 70 percent ground granulated blast furnace mix (GBBS) as a cement replacement for the building's foundation and structure which has reduced the embodied carbon to only 30 percent of a regular building
Features renewable energy applications, including 480m2 solar panels, which is predicted to generate 43.58 MWh in the first year
Recycles 58 tonnes of newspapers for insulation
Aims to create more than 250 jobs and safeguard over 200 jobs
Expects to provide free business support to over 600 businesses.
John French, CEO of the Adapt Low Carbon Group and Project Director for The Enterprise Centre, said: 'I'm delighted with The Enterprise Centre and the finalised building. It's finished to a beautifully high standard with many stunning features. The whole project has been somewhat of a labour of love for so many people involved across the whole project team and the extent of the innovative and environmentally sound initiatives and products which have been so enthusiastically adopted has been fantastic.  The Adapt Group and UEA are very grateful to everyone involved."