June 26, 2017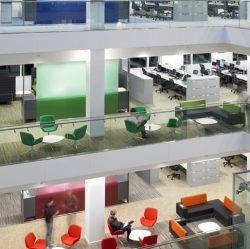 The CoreNet Global EMEA Summit will return to London in September 2017 for the fifth time, bringing together leading figures from the corporate real estate (CRE) profession to discuss how CRE can add value and be a true strategic advisor in today's dynamic, rapidly changing environment. Under the theme Blurring the Lines: Transcending Boundaries, the summit will explore a range of shifts that demand transformational thinking and integrated solutions. In a world of continual and disruptive change, the summit will assist in identifying how CRE professionals can transcend traditional boundaries to uncover new opportunities. The three-day event will provide a wide variety of engaging and educational sessions, including keynote presentations from some of the profession's most innovative thinkers, interactive seminars where attendees will be able to test new technologies and learn from one another's experiences, networking sessions and dedicated teaching workshops.
Opening the event will be a joint keynote presentation during which Linda Yueh, Fellow in Economics and Adjunct Professor of Economics, University of Oxford and London Business School, and Johan Norberg, Author and Documentary Filmmaker, will examine the geopolitical landscape to set the context for the conference.
The 2017 programme includes explorations across geographical lines, with learnings from Krakow, Africa and Australia; political and economic boundaries, offering strategic advice on how to excel through a period of global uncertainty; barriers between people, with a core focus on wellness examined through practical workshops and successful case studies; and analysis of how rapid enhancements in new technologies are transcending boundaries across the board.
Leading these sessions will be executives from prominent corporate occupiers and research institutions, including Unilever, Shell, Procter & Gamble, Coca-Cola European Partners, UCL, MIT, Microsoft, GSK, British Land, and Johnson & Johnson. Concluding the CoreNet Global EMEA Summit on Thursday 14 September, Editor-at-large at WIRED magazine David Rowan will deconstruct trends across the technology sector, determining how the Internet of Things, Artificial Intelligence and Big Data can offer key opportunities for CRE professionals and consumers.
The CoreNet Global EMEA Summit will take place at the Lancaster Hotel, London on 12-14 September 2017. Registration details are available from the website.
Image: Microsoft Thames Valley office by Pringle Brandon Perkins + Will