April 5, 2017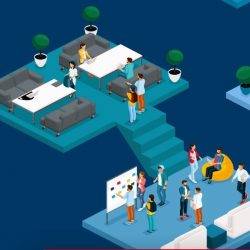 Demand for coworking spaces is growing at an average of 10-15 percent per annum across all regions as firms look to cut their real estate costs by embracing the concept based on shared work spaces and collaboration. That is the key finding of a new report from Cushman & Wakefield. As the trend gains momentum, according to the study, developers are increasingly incorporating  the aesthetic and function of such flexible working environments into mainstream building design. However the main driver of uptake continues to be concern about the cost of renting offices in prime locations and it is no surprise that coworking is focussed on major globalised cities.
One of the most high profile examples cited in the report is HSBC which is estimated to have achieved cost savings of about US $ 1 million by renting 300 desks at a WeWork facility in Hong Kong. WeWork is the largest independent player in the field following its global expansion in recent years and has become the largest occupier of corporate real estate in New York City and is a major play in London's commercial property market.
Betting big on Asia, WeWork is now planning to expand in India and other nations after opening several facilities in Seoul, Hong Kong, and Shanghai last year. The report claims that last year alone, coworking operators leased about 5 million square feet in Asia Pacific.
The size of coworking stock is estimated to be highest, in the range of 40 million square feet in the United States followed by Europe (20 million sq. ft. ), and Asia Pacific (10 million sq. ft.).