October 24, 2016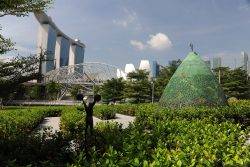 The world's leading corporate real estate owners and managers are making significant progress in reducing energy consumption, carbon emissions and water usage in their buildings, according to a new report from the Urban Land Institute's (ULI) Greenprint Center for Building Performance. The Greenprint Performance Report, which measures and tracks the performance of more than 5,400 properties owned by Greenprint's members, demonstrates a 3.4 percent reduction in energy consumption, a 3.9 percent reduction in carbon emissions and a 4.8 percent reduction in water use between 2014 and 2015. According to the study, since Greenprint started recording building performance in 2009, the energy consumed by members' properties tracked by Greenprint has dropped 13.7 percent. Carbon emissions from those properties have decreased 16.5 percent; and water usage has dropped by 10.6 percent. The reductions occurred even as building occupancy rose, suggesting that greater space usage does not necessarily cause a decline in building performance.
Globally, buildings account for nearly one-third of climate-changing carbon emissions. The results from this year's report indicate that Greenprint members are on track to reach Greenprint's target of a 50 percent reduction in overall building emissions well ahead of the center's target date of 2030. This is a critical step toward achieving the emission reduction goals set in the L'Accord de Paris, which was agreed to by more than 190 countries, according to ULI.
The report showed energy reductions in Greenprint member properties in cities across the United States – regardless of whether the city had implemented requirements for disclosure of building performance, and irrespective of climatic and market differences. Of the cities included in the report, San Jose, Calif., experienced the most significant 2014 to 2015 reduction in energy use by office buildings, with a decline of 10 percent; followed by Houston, at 9 percent; San Francisco, 7 percent; and Chicago and Washington, D.C., at 6 percent. Similarly, the report showed water use reductions on a city-by-city basis; in San Diego, water use by office buildings dropped nearly 40 percent – an extraordinary accomplishment given the city's water-stressed conditions.
The favourable results achieved by Greenprint members in cities in different climates, and in cities with and without performance requirements, suggests a broad movement within the commercial property sector to voluntarily adopt sustainable practices "because it makes good business sense under any conditions," said ULI Global Chief Executive Officer Patrick Philips.
The report identifies several industry trends related to the reduction in energy consumption and carbon emissions, including:
Increased engagement of building tenants in energy conservation and emissions reductions practices, spurred by the establishment of more tenant-focused programs such as ULI's soon-to-be-launched Tenant Energy Optimization Program;
Growing interest in health and wellness at the building level, and the role high performance spaces play in promoting the comfort and health of employees;
Rapidly evolving technology that connects occupants directly to buildings to facilitate use of resources only when needed, optimising performance and reducing waste;
Rising interest in net zero buildings that consume only as much energy as they produce from clean, renewable resources; and
Embedding sustainability throughout the investment life cycle by demonstrating how strong building performance can create value at every stage of the life cycle.
This year marks the sixth consecutive year that members have experienced improved building performance, in terms of energy consumed and emissions reductions. The lower emissions achieved since Greenprint's inception are the equivalent of 8.3 million trees being planted.
The data used in the report was submitted to the Greenprint Center by its 31 members and affiliated partners, who comprise an alliance of the real estate owners, investors and financial institutions committed to improving environmental performance across the global property industry.
The 5,414 properties tracked by Greenprint and owned by its members are located across 39 countries and accommodate more than 1.1 million employees. The value of real estate assets under management by Greenprint members exceeds $1 trillion, which is more than 5 percent of the value of high-quality commercial properties globally.