August 5, 2016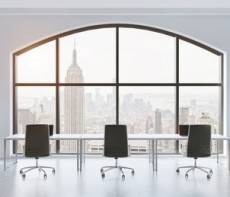 The corporate real estate profession will be influenced, disrupted and transformed in the years ahead by a powerful combination of forces that are re-shaping business strategy and operations, consumer preferences, and how and where people want to live and work, according to a new report from CoreNet Global. The Bigger Picture: The Future of Corporate Real Estate draws on the expertise of more than 30 thought leaders to provide insights from multiple perspectives beyond CRE: technology and the internet of things; risk mitigation; cyber security; environment, energy and sustainability; corporate social responsibility; the global economy; people, talent, wellbeing; and the future of cities. The report argues that CRE must deliver greater value in this dynamic business environment and a world that is changing rapidly, is more interconnected than ever before, is constantly disrupted by technological innovation, and is replete with both risks and opportunities.
Among the key findings in the report:
Over the next 10 to 20 years, potentially 40 to 60 percent of the worldwide labour force that is now doing transactional work could be replaced and augmented by artificial intelligence, work-force automation and smart cognitive thinking machines.
The increasingly mobile and connected workforce is changing real estate requirements as it relates to how much space is needed, where facilities will be located, and how that space is configured, utilised and managed. The next generation workplace likely will be built around workplace networks that will support this new mobile workplace complexity.
Although some might think of cyber security as an IT issue, high-profile cases such as the 2013 Target credit card breach show a crucial link to CRE and the built environment. That breach, for instance, came from a refrigeration, heating and air-conditioning subcontractor that had security access to service Target as a client.
"Now, more than ever, it is crucial that corporate real estate professionals become not only students of the business, but students of the world and how it is changing," said Angela Cain, CEO of CoreNet Global. "That is the purpose of our new report: to place the future of CRE in the context of the bigger picture."
Several CoreNet Global Gold Strategic Partners contributed to the report: CBRE, Deloitte, ISS, JLL, Newmark Grubb Knight Frank, Sodexo and Steelcase.