June 11, 2018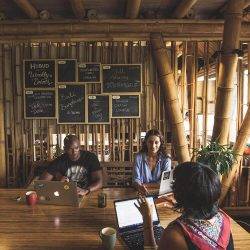 There is a persistent image of a coworking space as a sort of glorified serviced office for tech and creative startups who can't afford the eye-watering rents in the areas they need to be. This is usually in the technology hothouses of the world's major cities where they can work alongside the corporate giants and fellow innovators that thrive there. The reason such perceptions exist is because they are largely true. It's no coincidence that coworking spaces have thrived up till now in the world's most expensive property markets – in London, Hong Kong and New York, serving exactly the sorts of start-ups and freelancers who rely on proximity to their potential clients.
Coworking taking over the world
Although New York and London have been the epicentres of growth in coworking, the focus is shifting to other markets. WeWork expects that its biggest growth markets in 2018 will be in Hong King and China. by the end of the year, WeWork will be developing in several new locations in Hong Kong and expanding its existing presence in China to eight more cities: Shenzhen, Suzhou, Hangzhou, Xia Men, Cheng Du, Nan Jing, Xi'An and Wuhan. It also recently acquired Chinese coworking provider Naked Hub to signal its intentions for the country.
In the UK, demand for flexible workspace including coworking space soared across the country during 2017, according to a report from Cushman & Wakefield. It claims that WeWork is already the largest single corporate occupier of office space in London, with only the public sector exceeding its scale.
The increasing dominance of coworking space is not solely down to WeWork however, nor is it restricted to London. Across other UK cities, the take-up of space by coworking providers jumped to an average of 7.5 per cent of commercial property markets in 2017, up from 2 per cent in 2016. There seems to be no signs of a slowdown.
One of the most intriguing shifts in the provision of coworking space is the way it is serving a globalised customer base in some very exotic locations. It is a point raised in Ramon Suarez's excellent book The Coworking Handbook in which he cites the examples of people who choose to work anywhere they choose, alongside like minded people in some of the world's most beautiful locations.
These include such once unlikely work locations as Bali which has a thriving coworking and coliving scene from providers like Hubud (top) and Outpost. Or Morocco which offers similar facilities in the aptly named Sundesk facility. Or then again there's Ski Locker in Chamonix for certain months of the year. For people in the right kind of work, there's noting to stop them working in any of these spaces as they see fit.
A cultural phenomenon
This extension of the coworking phenomenon is not merely geographical, but cultural too. Last year IBM announced it had agreed a deal with WeWork to take on all the space at its 88 University Place office in New York as home for 600 employees.
This might be a sign of things to come. Corporate clients are seeing the appeal of coworking space in a fast-changing world and now make up over a fifth of WeWork's membership worldwide.
Meanwhile, in moves that are sure to have major implications for the corporate real estate and facilities management market, WeWork has also announced plans to become a major real estate investor and introduce a wider range of facilities management services. The end game is what the commentator Antony Slumbers has described is the creation of Space as a Service as the preferred model of office occupancy for a much wider number of organisations.
Reshaping the experience of office design
Even for those organisations not adopting the new model of coworking, the influence of the design of these sorts of offices is starting to spread out into more traditionally corporate environments. The premise for this seems to be that whenever you ask people to describe their perfect office, you almost invariably get a description of something that sounds like what we would now deem to be an archetypal coworking space; little or no openly corporate furniture or other interior features, comfortable seating, fast broadband, interesting and engaging people to work alongside, some private work areas and decent food and coffee.
So the challenge for office designers becomes how to create the best possible experience for people who have the choice to work anywhere. This marks a fundamental shift in the way firms see their office needs. Instead of a space to occupy, they are after a space to use.  As the coworking phenomenon continues to gather pace, and as we expect to see many of the ideas that define it more widely embraced, so its influence will be felt in offices of all types beyond its core markets.
This will include larger organisations who will use coworking facilities alongside their core office space to deal with business change and create more flexible and attractive working cultures to attract the best talent. We've only just begun to see the way coworking will reshape the office but there is no doubt its impact will be profound and widespread and will extend way beyond the stereotypes with which it is still associated.
_______________________________________
Gary Chandler is the CEO of office design and fit-out firm Area