July 27, 2015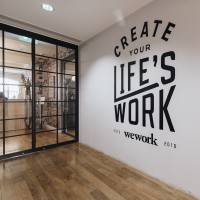 Earlier this month, US based coworking juggernaut WeWork announced that it had opened the UK's largest space of its kind in Moorgate in East London. Now, according to a report in the journal CoStar, the firm is looking to become a major tenant in the commercial property market in London in the same way that it has come to dominate Manhattan. According to the report, WeWork is looking to acquire over 1 million sq. ft. of space in the capital over the next 18 months as it seeks to provide coworking space for its growing customer base of young creative and technology businesses and other start ups. If it succeeds in finding the space it wants, the firm will have quadrupled the commercial property it occupies in London to 1.5 million sq. ft. WeWork is already Manhattan's largest tenant and is now valued at $10 billion, having started in 2010.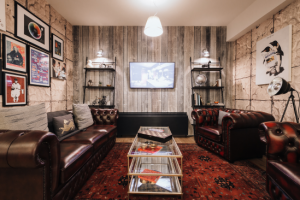 The company's core business model is to rent commercial property which it then divides up into smaller offices supported by a range of communal spaces which it then rents on flexible terms to startups and small businesses, primarily from the creative and technology sectors. This kind of space is not only interesting because of the way the space is provided and to whom, but also because of the way that communal spaces are designed to resemble other public spaces such as libraries, hotels, clubs and coffee shops.
Earlier this month, the firm claimed that it had opened the UK's largest coworking space in an eight storey office building in Moorgate, which is appropriately near to the creative enclaves of Clerkenwell, Old Street and Shoreditch. The office at 1 Fore Street is able to accommodate up to 3,000 'members', making it the largest single shared workspace community in the UK, and one of the largest in the world.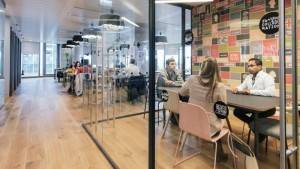 Miguel McKelvey, cofounder and chief creative officer at WeWork, said of the new building: "There is a worldwide move towards entrepreneurial culture and, as a global leader in culture and commerce, London embodies that more than most cities. In London we've been able to connect with not just entrepreneurs, but also small businesses and even divisions of larger corporations who really appreciate the open, collaborative environments of our buildings."