May 23, 2022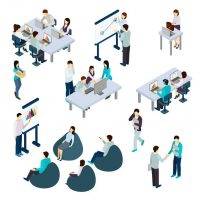 Between January 2021 and January 2022, the average price for a monthly hot desk rental at a coworking space increased by 9 percent globally, according to the latest report from Coworking Insights, a news source for analysis of the flexible workspace industry. Coworking Insights' 2022 Hot Desk Price Index Report [paywall] compares pricing from 19,500 coworking spaces in 172 countries across six continents to provide evidence of the demand for shared workspace.
Of the countries that were examined, Switzerland ranked as the country with the most expensive monthly hot desk price at $361 USD per month. Hong Kong came in second place at $344 USD per month, and Qatar ranked third at $314 USD per month.
When comparing the world's most expensive cities for coworking desks, Zug in Switzerland claimed the top spot, with monthly pricing of $439 USD on average. Santa Monica in California (which ranked first in 2020) came in second place at $431 USD per month, with Zurich ranking third at $428 USD per month.
This is Coworking Insights' fourth annual release of its Hot Desk Price Index, which offers year-by-year comparisons of many critical data points, such as price evolution by continent between 2018 and 2022.
As such, the report revealed some noteworthy insights by comparing four years of recent data. For example, eight out of the top 10 most expensive cities for coworking hot desks were located in Switzerland, with two located in California. This demonstrates the high cost of living and real estate prices in both markets, which has remained consistent in past years of this analysis.