December 2, 2020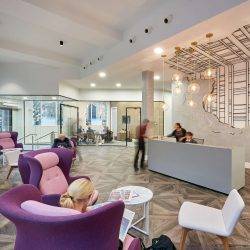 Most of the analysis about the effects of the 2020 pandemic on people's working lives has tended to involve grand statements about new normals and the death of this or that, as if everybody wants the same things, has the same personal circumstances, works in the same ways, the same places and same sectors.
The truth is that for vast swathes of the workforce, there is no way to work other than how they largely worked in January. Often these people worked for firms who had already accepted the core principles of flexible working. And for many others who could work in different ways, times and places, the effects will vary enormously. Those who commute into a Central Business District at the same time every day to work for a bank in a tall building have a very different outlook on it all to those people who walk to work at a digital agency in a small market town.
Yet it is the latter that are the most overlooked in the mainstream conversations about the way we work. This is not even a reflection of their importance to the economy. According to a 2019 study from the Centre for Economics and Business Research (CEBR) think tank, the so-called 'flat white sector' of smaller digital and creative businesses was the most important driver of the UK economy, in terms of the value it adds.
The use of the name is also telling. Not only does it reflect a rejection of traditional ways of using offices to establish a new business, it also hints at the importance of physical proximity and the development of personal relationships in shared, social spaces. It's no surprise that the ongoing growth of such firms takes place in offices that owe more to the design of cafes and coworking spaces than corporate workspace.
In other words, firms in the most important sector of the UK economy were part of the 'new normal' before it even existed.
They also demonstrate some of the eternal truths about humans that will ensure the survival of the shared physical workplace as an idea.
Distance learning
Perhaps the most famous programme of research that describes how togetherness helps people to work together is that of Tom Allen at MIT which demonstrated over many years the correlation between the physical distance between colleagues and the frequency of their communication.
Firms in the most important sector of the UK economy were part of the 'new normal' before it even existed
As far back as 2006, in the book The Organization and Architecture of Innovation he co-authored with architect Gunter Henn, the authors note how the physical office building is becoming more important despite the availability of collaborative technology. They argue that technology does not replace meetings but makes them more commonplace, something we have witnessed over the last few months.
Proximity doesn't just matter to facilitate the practical flow of information. It also forges the personal relationships that foster creativity. A study from Roni Reiter-Palmon and Stephanie Sands from the University of Nebraska – Omaha which set out to establish the links between meetings and creativity found that the link was dependent on the relationships between participants and especially their levels of trust in each other.
This issue is also evident in a 2017 study by Dr Julie Brown of the University of Cardiff which looks at the role of coworking spaces in terms of fostering creativity and wellbeing as well as energising urban environments. Most powerfully, it suggests that the best coworking spaces aren't merely places to work, but communities in their own right.
As the paper argues:
"Coworking, as originally conceived, was less about physical space/design and more an informal means of organising people who shared similar attitudes and values and who wanted to adopt a loose commitment to a shared way of working … The theme of "community" is strongly espoused in much of the coworking discourse, with the (social and collaborative) emphasis often framed as joining a coworker community."
Challenging assumptions
More recently, some of the most common assumptions about creative work and the role of the office have been challenged by Leesman, the world's largest database of workplace information. Writing for IN Magazine recently, Tim Oldman of Leesman asserted: "Watercooler moments are a bit passé, but the fact remains that you can't replicate chance encounters on a Zoom call. That, along with other factors, negatively impacts knowledge transfer, social interaction and creative collaboration."
Watercooler moments are a bit passé, but you can't replicate chance encounters on a Zoom call
Leesman data from this year also proves that some people need the office for focus as well as networking. This latter issue is particularly important for younger people and new recruits to an organisation who rely on physical proximity to build their relationships, absorb culture and understand the business.
As this piece in The Atlantic puts it:
"The social by-products of going to work aren't found only in shared projects or mentoring—many are baked into the physical spaces we inhabit. Break rooms, communal kitchens, and even well-trafficked hallways help create what experts call functional inconvenience….People end up talking to their co-workers—complimenting a new haircut, asking how the kids are—when they're corralled together waiting for the elevator or washing their hands next to each other in the bathroom. Over time, those quick encounters build a sense of belonging and warmth that makes spending so much of your life at work a little more bearable."
This is also true for the interactions we enjoy with people outside of the office which we shouldn't give up lightly. Research last year by US National Bureau of Economic Research found that the number of patents filed in 1920s prohibition America fell where the bars closed. Prohibition had a temporary effect on the rate of invention, because people weren't mixing in the city bars."
Steve LeVine goes back even further in time to look at the possible impact of a loss of serendipity on Silicon Valley here:
"History's creative hubs have been ephemeral — when Florence declined in the 16th century, it was not replaced by another concentration of artistic genius. The world simply went without. Granted, Florence didn't have Zoom or the Cloud, but so far both of those have fallen short in the present crisis. If a demise of serendipity leads to Silicon Valley's decline, the world is unlikely to get an equal substitute. We may simply lose our engine of technological advancement."
This is not something we should easily dismiss in the name of some mythical new normal. The advent of collaborative tools that allow us to exchange some ideas and information in new ways should give us more choices, not replace what we already have. We already know a great deal about how we might adapt and make the best of both physical and digital working space. This may not be true for all people and all organisations, but it is almost always essential for innovators and creatives.