December 3, 2020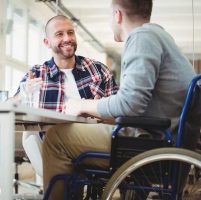 A new think tank has launched today to mark the United Nations' International Day of Persons with a Disability. Called 'The Forum', the think tank seeks to increase the participation of employers and disabled people in the development of economic and social policy at a UK level.
Business Disability Forum is launching the new think tank to bring together business, employers, disabled people, academics, regulatory bodies, and policy units to debate, challenge and inform the development of effective and evidenced disability inclusive public policy.
The Forum is beginning its work by asking employers and disabled people about views on current inclusive employment initiatives and schemes, such as Access to Work and Job Centres, as well as what they would like to see in the proposed National Disability Strategy. The Government is expected to publish the strategy in the Spring. The strategy will cover issues such as economic recovery and employment, assistive technology, accessible products, and services, built environment, access to justice and independent living.
Diane Lightfoot, CEO, Business Disability Forum, said:  "The Forum will draw on the expertise of our Members and Ambassadors to research, debate and present evidenced solutions to the economic and social barriers experienced by disabled people in the UK today – whether within the workplace, as consumers, or in society more generally.
"2020 has been a year like no other. Public policy and guidance have had to be developed at pace, sometimes with limited input from the people and organisations that it will affect the most and sometimes with far reaching and unintended consequences as a result. As we mark the UN's International Day of Persons with Disability and this year's theme of 'Building back better', we are calling on policy makers to commit to making future policy and legislation disability inclusive."
Jonathan Andrews is a Business Disability Forum Ambassador and is supporting the work of The Forum. Jonathan, a solicitor at Reed Smith, was named in the top 10 of this year's Shaw Trust Power 100 list for his campaigning to promote more inclusive business practices for other young people with autism. He said:
"When I was studying, I realised that there wasn't much visibility of neurodivergent people in the area of law. I decided that I couldn't let that be a barrier and that I should be talking about it if no one else was. Your identity shouldn't hold you back from what you want to do and that is why I am passionate about the work of Business Disability Forum and The Forum. The areas that The Forum want to put on the agenda are an important part of the national conversation."