July 11, 2017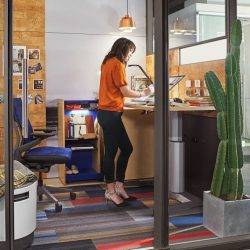 Creativity is often thought of as a quality unique to artistic geniuses. When in reality, it is present in all of us, and something that can be enhanced and nurtured, given the right tools and environment. Creativity is the innate human ability to generate ideas, solve difficult problems and exploit new opportunities — it is the fuel for innovation. Many of today's most pressing business problems require creative thinking to solve them, and creativity is an essential ingredient for business growth. However, 77 percent of CEOs name creativity as their company's number one skill shortage (20th CEO survey, PWC, 2017). Being agile is critical in a world that is changing rapidly, with disruptive technology, globalisation and an increasingly complex landscape all playing a part. More than ever, supporting creativity at work is an essential part of driving value for both businesses and society. In days gone by, instead of focusing on their organisation's creative output, most business leaders were obsessed with near-term goals such as productivity, efficiency, cost-cutting and reducing waste. But the landscape has shifted and creativity is emerging as an important dimension of productivity.
As efficiencies are optimised through more sophisticated digital technologies, gains in productivity are driven by the ability of teams and companies to solve problems and create value through collective creativity.
A World Economic Forum report found that 52 percent of CEOs plan to hire more employees, but the skills they consider most important are those that can't be replicated by machines. In our study, the Steelcase Creativity and the Future of Work Survey 2017, we found that 72 percent of employees believe their future success depends on their ability to be creative.
Meanwhile, millennials are already bringing stronger expectations for self-expression and creativity into the workplace. The 2011 PwC Millennials at Work report supports this idea, indicating that millennials are attracted to companies that allow and encourage creativity. Looking further ahead, Generation Z is growing up in a fluid world of blurring disciplinary distinctions. Maths, science and art are crossing paths more and more – a trend we see continuing to grow as an increasing number of schools are developing STEAM programs (Science, Technology, Engineering, Art and Maths). From this, it is clear that not only is creativity essential for innovation, but for recruitment, too.
If, as trends indicate, the future workforce will be a cadre of makers, hackers and creative thinkers, it is crucial that they are enabled to be at their best by their employers, through effective use of technology, space and – of course – company culture. When creativity is enabled and encouraged at every level of an organisation, employees are able to harness this to create more efficient solutions, to innovate and to collaborate.
As work becomes more challenging, there's also growing recognition that employee performance is highly dependent on the quality of their physical, cognitive and emotional wellbeing at work. It's becoming clearer that a strong sense of wellbeing and purpose can improve a person's ability and freedom to think creatively, while serving the double purpose of improving their overall engagement. For the generations now entering the workplace, choice and control are key, reflecting their higher value on self-expression, comfort, social connections and gaining a strong sense of purpose from their work. This means businesses will need to think differently to attract, retain and inspire them.
Organisations need to embrace the belief that creativity is a process in which anyone can engage, with the right set of behaviours and ways of working. So rather than managing projects in a linear fashion, today complex problem-solving requires a multidisciplinary exploration of unknown territory, agility and iteration, divergent and convergent thinking. The creative work process is fluid and often messy — embracing frequent dead-ends and failures that become part of a learning cycle.
In turn, the work space itself plays a central role in encouraging the creative process and a culture of creativity, with scientific research showing strong links between creative cognition and the physical environment. Space and technology can best support creative work when designed as a holistic, integrated system. The following three design principles provide a guide for the core elements to include:
Create an Emotional Connection
Ambient inspiration and thoughtful design elements inspire thinking and help build a team culture. Meanwhile, providing for physical and emotional comfort though posture and proximity affirms the importance of individuals and helps to foster a warm and nurturing environment. For example, spaces should encourage people to visually explore multiple solutions by experimentation and engagement with integrated technology. Also consider posture relative to the work mode – i.e. standing height for generative meetings so people can easily flow between work surfaces and technology.
Nurture Creative Confidence
All employees should be empowered to tackle complex problems regardless of hierarchy or position. Allowing equal access to spaces, tools and technology encourages equal participation, while technology such as large-scale computing devices allows everyone to contribute to and interact with content.
Build a Fluid Ecosystem
A variety of spaces helps to support individuals and teams as they cycle through the creative process, encouraging moments of individual exploration, rest, social connection, co-creation and evaluation. Ensuring that there is a seamless connectivity between spaces will support the flow of information and experiences from tools to tools and space to space. Cloud-based technologies in particular enable this, so that work can move with people as they transition from space to space.
In his 2001 book The Art of Innovation, Tom Kelley, general manager of IDEO, proposed that innovation was on its way to becoming a centre-piece of corporate strategies and initiatives. Building a culture of creativity is at the heart of making that happen. Place shapes behaviour, and behaviour over time is culture. Intentionally designed physical space has the power to drive the attitudes, behaviours and levels of performance that people and organisations need to thrive.
________________________________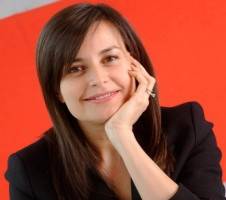 Serena Borghero was born in Milan where she studied Business Administration at the Bocconi University in Milano and at the UCL in Brussels. She joined Steelcase in 2000, covering different roles both within the corporate and the regional offices. In 2012 Serena joined the new born Coalesse team within Steelcase, being responsible for Marketing, Communications and Public Relations in EMEA. Today, she is Editor of 360 Magazine & Director, EMEA Research Communications