January 16, 2013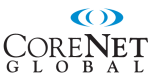 Adopting 21st-century workplace practices that meet the needs of employers and employees is an important form of Corporate Social Responsibility (CSR), according to a new corporate real estate (CRE) industry advocacy statement by CoreNet Global. The report finds the nature of work is "changing dramatically, transcending the traditional definitions of productivity to include the concepts of enabling work, employee engagement, employee satisfaction and employee wellness, framed around an emerging 'work-life support' business model."
CoreNet Global's members directly influence the design and operation of corporate workplaces worldwide. The statement from the Issues Advocacy Focus Group based on input from subject matter experts and the extensive, long-term documentation of best-in-class workplace management practices from more than 7,500 CoreNet Global members worldwide, reveals that more than nine in 10 (93%) of senior-level CRE executives rate the quality of work environments and work experiences as the most urgent issue facing their companies.
"Mobility and other technology advances are blurring the lines between work and personal lives, making effective work practices a lifestyle-management question, not only a series of work-related activities," said CoreNet Global Chairman Jim Scannell, Senior Vice President, Administrative Services at The Travelers Companies, Inc.
Like technology, economic conditions and demographics are major change drivers that are requiring companies to look at working environments and work experiences in a different light.
"While we advocate for the types of flexible workplace strategies evolved over the course of more than three decades by CoreNet Global members on the supply and demand sides of the CRE industry, these strategies are being redefined yet again by economic, demographic, technological and other forces," CoreNet Global observes.
Moving forward, these factors will determine a corporation's competitive advantage and are already impacting the success of many enterprises, the statement also advises.
"Companies, regardless of size or industry, risk losing competitive advantage by not addressing the new cultural, social and behavioural drivers that determine success in today's and tomorrow's business world. In this important sense, addressing the quality of work environments and work experiences is becoming a form of risk management against a reputation-driven landscape."
"A greater ability to assess the return on the investment made in employee wellness is a fundamental step toward improving employee engagement," the statement also indicates, "to the extent that company culture, industry type, location, financial resources, job functions and other factors allow."